13 New Spy Shots of the 2019 BMW X7 Emerge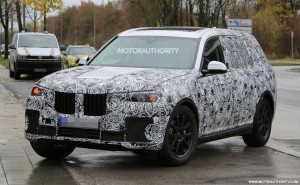 In 2014, BMW announced plans to make a full-size SUV, the platform of which we are now seeing based on these spy shots. There are no surprises with the design of the BMW X7 since there have been speculations already that it will be patterned after the German company's next-generation X5.
Here are things you need to know about the X7 before trying to get your hands on it:
Competition
The BMW X7 will compete against full-size SUVs in the luxury arena. In this segment are the Audi Q7, Cadillac Escalade, Mercedes-Benz GLS, Land Rover Range Rover Long-Wheelbase, Lincoln Navigator and upcoming Jeep Grand Wagoneer.
Design
There are no surprises when it comes to the design. The X7 looks like a stretched version of the next-generation X5, though the former is more muscular on the front section. Based on the spy shots, it's easy to see that the grille and lights are all test units. They will be replaced once advanced prototypes have been tested and released.
For the X7, the platform that would be used is the German company's flexible CLAR, a modular platform which made its debut on the 2016 7-Series and the 2017 5-Series. This platform will be soon used on all BMW models from 3-Series and up.
The CLAR platform promises lightweight construction and compatibility with electrified powertrains. Because of this, we can now assume that the X7 will feature a plug-in hybrid powertrain, along with the regular V-8 and inline-6 options. A V-12 may also be offered, though expect this to only be available for the M760i M Performance trim.
Interior
The cabin of the BMW X7 will be similar to the 2016 7-Series, especially the cockpit design. It will have three rows of spacious seating, a driver-focused layout, and an advanced infotainment system with gesture control.
Production of the X7 will take place in Spartanburg, South Carolina. It will be introduced in 2018, so it will likely be a 2019 model.
Photos
Here are the latest photos of the camouflaged 2019 BMW X7 from Motor Authority: