1917 Mitsubishi Model A Will Get Electric Car Treatment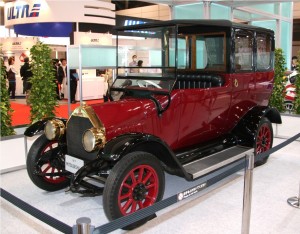 Mitsubishi Motors, formerly the Mitsubishi Shipbuilding Company, entered the automotive scene when it produced its first passenger vehicle, which is the 1917 Mitsubishi Model A. In celebration of the company's centennial anniversary, it announced that it will release a plug-in version of the car.
Looking back at the history of the prestigious brand, the Model A was a four-door sedan measuring 103.9 inches in wheelbase, 150.8 inches long, 63.8 inches wide and 81.5 inches high. It has a curb weight of 2,899 lbs. The car carried a 2,765 cc inline-four engine with 35 hp and top speed of up to 97 km/h.
The car was produced from 1917 to 1921 and only 22 of them were made for customers. Due to the expensive production of the vehicle, Mitsubishi halted its production and it was not until 1960 when the company resumed its passenger car production with the Mitsubishi 500.
According to Inside EVs, the 1917 Mitsubishi Model A with plug-in hybrid powertrain is currently being made by West Coast Customs in Burbank, California. It is expected to be launched in summer. The progress of the car specialists will be shown during an episode of Inside West Coast Customs on the Velocity network.
The source said the revived Model A will make use of the automaker's PHEV platform. Currently, the Mitsubishi Outlander makes use of the platform.
The PHEV platform is an interesting choice for the new Model A as it should be noted that the classic passenger car is actually as big as the common sport utility vehicles of today's standards. It is worth mentioning that the Outlander is actually 105.1 inches in wheelbase, 184.8 inches long, 71.3 inches wide and 66.1 inches high. The curb weight of the auto is 3,768 lbs.
The integration of the PHEV platform with the 1917 Model A is truly an exciting feat for West Coast Customs as it will highlight both the past and present of the brand in one vehicle.