1961 Ferrari 250 GT Heads to Amelia Island for Auction
If you or know someone who can easily sign a check for $16 million to get their hands on a "celebrity car," so to speak, then throw this little bit of information to them: the 1961 Ferrari 250 GT SWB California Spider is up for sale at the Amelia Island auction in Florida next month.
According to CarAndDriver, only 56 units of this car have been made. Only 37 of them have been fitted with those sought-after covered headlights. This particular machine has exchanged ownership three times since it was constructed and sold 55 years ago.
Industrial designer Gianfranco Frattini was the first one to own the Ferrari. While under his care, it was featured in the film "Yesterday, Today, Tomorrow" with Hollywood actress Sophia Loren in 1963.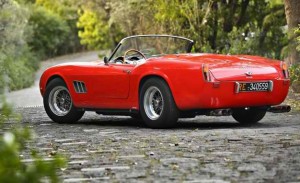 In June 1978, it was bought by its second owner Terzo Dalia, and then passed on to its third owner in 1985. This is the first time it will be up for public sale, and the first time it is being offered outside Italy.
This short-wheelbase model of the 1961 Ferrari 250 GT is based on its previous long-wheelbase version. The auto features a number of upgrades such as a timeless coachwork by Scaglietti, a more nimble chassis and four-wheel disc brakes. With Scaglietti behind the design, it's no wonder one look at the Ferrari can render an exquisite reaction.
Gooding & Company, which has been tapped to represent the car publicly, said this is Ferrari's prettiest car and the exquisite bodywork hides an even more impressive machine. The company expects the car to go up to about $16 to $17 million on March 11 when the auction opens its doors.
Based on the records at Sports Car Market, having a selling price of $16 million would put this in the range of California Spiders—the current record is at $18.6 million paid for the Baillon barnfind in Paris a year ago.