1964-1965 Shelby Daytona Coupe Can Hit 190MPH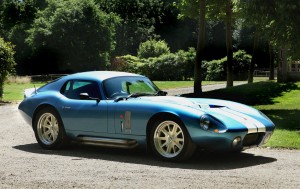 Caroll Shelby's dream of making the world's fastest super car came true with his partnership with AC along with long-time associates at Ford Motor Company—the creator.
According to Top Speed, that created the Shelby AC Cobra, but that wasn't nearly enough for Shelby who through his years of racing in Europe and North and South America throughout the 1950s dreamed to outrun every sports car there is.
With the Shelby AC Cobra not being able to outrun the Enzo Ferrari and the Ferrari 250 GTO, Shelby had Pete Brock design a more lightweight and aerodynamic body for the AC Ace. This allowed for higher top speeds at Le Mans' Mulsanne Straight.
The design finally worked, and thus born the Shelby Daytona Coupe. The car's debut race would be the 1964 Daytona Continental 2000 at the Daytona International Speedway in Florida.
The AC heritage is evident in the design of the coupe. Brock's design certainly made for a unique exterior. Similar to the Ferrari 250 GTO, the Daytona's nose is pointier. The headlights are covered in plastic while the large grille was designed for higher top speeds.
The design of the Daytona is pure racecar. It is not made for comfort, but for racing alone.
Like Shelby's other creations, the Daytona will house the Ford V-8 engines. But to ensure higher speed, Shelby made the coupe's rear axles beefed up to withstand the torque from the 4.7-liter V-8 engine. It also has a 3.07 ring and pinion gear, as well as the same suspension system from the AC Shelby Cobra Mark II.
The main competition for the Daytona Coupe is the 1964 Ferrari 250 GTO. The two share the same design, including the fastback rear window, covered headlights and the small oval grille down low. This Italian racer is packing 3.0-liter V-12 engine that can produce 302 horsepower, and can race at 190mph on the Mulsanne Straight.
Only six of the Shelby Daytona Coupes were built. You can see an unrestored but mechanically reconditioned one at the Simeone Foundation Automotive Museum in Phildelphia. That car is worth $4 million.