1965 Bizzarrini P538 To Be Auctioned Off For A Million Dollars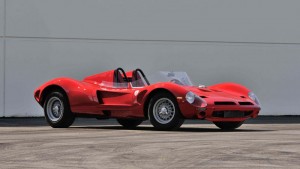 If you've got a million dollars right now, would you spend it on an ultra-exclusive Bizzarrini P538? This dreamy speed car will be presented at the Mecum car auction between August 18 and 20 as Lot S111. It is expected to be sold for close to a million dollars, according to a report.
Car enthusiasts in the United States of America may not be all that familiar with the Bizzarrini brand, but Europeans know the name carries serious weight since Bizzarrini is the builder of such cars as the Iso Rivolta, Iso Grifo, Ferrari 250 GTO and the Lamborghini 3500 GT V-12.
Giotto Bizzarrini worked with Alfa Romeo and Ferrari before building his own company called the Prototipo Bizzarrini S.a.r.l, Progrettazione e Costruzioni Automobili in 1964.
The P538's impressive bodywork is made of fiberglass to keep it as lightweight as possible. Its overall look is classic Italian with lots of intakes, cuts, swoops and dives. The fenders are profiled high, encapsulating the wheels in a wave that runs from the front to the back.
The unique exterior features include the new primary intake in the nose, the upright windshield that extends along the car's flanks (which follows the dips and rises of the bodystyle), and the new side intakes on the miniscule doors.
Inside, it's all race car business. The bucket seats have four-point racing harnesses while the steering wheel is large, thin-rimmed and trimmed in wood. The dashboard houses various buttons and switches.
Under the hood, the Bizzarrini P538 uses the V-8 from the Chevrolet Corvette that is rated at 327 cubic inches in displacement or 5.3 liters. The V-8 comes packed with side draft Weber carburetors, four individual intake horns per side, and a Campagnolo intake manifold. This package can produce 365 horsepower with top speed at 174 mph.
As for the price? The Bizzarrini P538 will likely be sold between $750,000 and $950,000.