2 World Premieres From Mercedes-Benz at the 2017 Shanghai Auto Show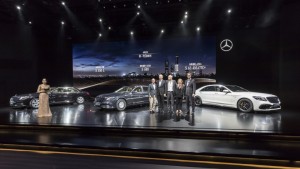 Giant luxury car maker Mercedes-Benz wasted no time in making its presence felt at the 2017 Shanghai Auto Show. The German automaker unveiled two new models for the world to see.
Mercedes-Benz S-Class
The flagship range of Mercedes just got a facelift for its current generation. Outside, the car features new set of bumpers, more advanced headlights and tailights, redesigned grille and 20-inch wheels. The interior is pretty much the same than its earlier version, which is highlighted by twin displays measuring 12.3 inches diagonally.
The different models under the range now offer engine upgrades. Everything from the standard Mercedes-Benz S-Class models up to their Mercedes-AMG and Mercedes-Maybach counterparts take the next-generation power units of the automaker. The S 450 is equipped with the new V6, the S 560 (including the Maybach model) plus the AMG S 63 and S 65 possess the new V8. The ultra-opulent Maybach S 650 has the new V12 under its hood.
The new Mercedes S-Class will roll out in the European market by July. Mercedes-Benz USA confirmed that the car will hit the dealerships in its territory starting fall.
Mercedes-Benz Concept A
The Concept A is merely a preview of the application of Mercedes' new design language to its compact vehicles in the future. It is called the "Aesthetics A", which will be the basis for the styling of the next generation A-Class, B-Class, CLA and GLA. The Concept A comes just after the introduction of the Mercedes-AMG GT Concept at the recent Geneva Motor Show.
Similar to the AMG GT Concept, the Concept A showcases smoother surfaces in its body. It departs from the design of the present models of the three-pointed star brand that sport prominent body lines.
The Concept A noticeably adopts the Panamericana grille of the new Mercedes-AMG GT models, which display larger vents in its nose. Also, similar to the AMG GT Concept, the Concept A possesses advanced-looking headlamps and taillights. Lastly, it comes fitted with 20-inch wheels.