Monthly Archives:
September 2013
Dacia, the Romanian carmaker has unveiled a refreshed and made-over Duster soft-roader preceding to its public debut at the upcoming Frankfurt motor show next month.  Revised to encompass more "emphatic 4×4 design cues" is what the firm claims about the face lifted Dacia Duster. The more rugged look said to be the key to the facelift the new Duster has got is its redesigned front fascia with a new front grille with chrome plating that hides a new air intake and larger light clusters. However, the rear is almost the same as the outgoing model with some subtle styling tweaks that give the refreshed Dacia Duster a more SUV like appearance.
The fact prevails – the current Duster is a stylish and compact SUV, interestingly, with a spacious interior. And it can be parked outside your house for not much money. The real game changer in the UK market, Duster comes with its enter-level model costs less than some superminis and is sets new stature for value for money. The face lifted Duster which features all new equipments is to continue customer satisfaction at the classic Duster prices.
While the current Dacia Duster sitting on Renault-Nissan B0 platform that mandates the use of traverse engines sports a 1.6 liter petrol or 1.4 liter diesel engine the revised Duster boasts an all new engine. One of the biggest innovations that the newer Dacia presents is the 1.2 liter TCe developing 125 horsepower or 92 kilo watts. The engine is mated to a six speed manual gearbox. The six speed manual transmission makes driving the new Dacia Duster a delight for the driver, having control over the little SUV at every turn and contour. Fuel economy is great with only 6 liters per 100 kilometers. Upgraded Dacia Duster is fully equipped with multimedia technology and even more practical customer features. Dacia MEDIA NAV that is a complete multimedia system with Bluetooth connectivity along with SAT NAV are available on the improved Duster according to what trim level you go for. The essential multimedia system called the Dacia Plug&Radio in the new SUV from the firm features a radio, an MP3 compatible CD player, Bluetooth connectivity and an integrated jack and USB sockets which combine to form a simple yet effective technology.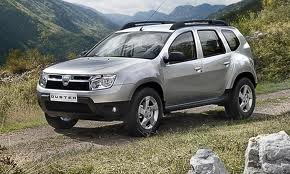 The new Dacia Duster also sports a cruise control, rear parking sensors (again depending on the trim level), motion auto-lock and an exterior temperature display. The door on the driver's side now contains the electric window controls with one-touch mode. Also boasting larger cabin and trunk volume, the Renault owned Dacia's Duster now comes with as much as 3.3 liters of extra interior storage space.
With such classy interiors, a stand-out grille, a lower intake as well as the revised "double optic" headlights the new Dacia Duster looks high class with its new facelift considering the fact that it's from Renault's budget Romanian sub-brand. As the Head of Styling for the Entry Range, David Durand said, "New Duster gets and even stronger character while retaining its initial DNA."