2014 Dodge Durango: A Family Vehicle
When scouting for six to seven passengers for SUV, we found that there can be no better option than a 2014 Dodge Durango in the futuristic crossover market. The new generation Dodge Durango not only offers spacious cabin for passengers but also more refined and polished ride to make it a family oriented car. This time the three row utility vehicle was launched with an optional V8 engine and quite impressive tow ratings, which are not very common in small SUV but remains staple in traditional large SUVs. To keep it in the competition for futuristic 2014 SUVs, Durango has kept its price mediocre, with additional aggressiveness and improved styling which are the first things that you will notice about the otherwise same with very less obvious changes 2014 Dodge Durango.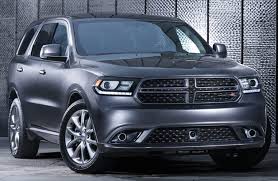 The new eight speed transmission is a highlight in 2014 Dodge Durango apart from its refurbished rear as well as front styling, updated cabin interior along with striking changes like an all improved instrument panel, updated dashboard with large and intuitive 8.4 inch touchscreen panel with an upgraded version Durango's Uconnect system which has now introduced new smartphone app integration capability to read text message with text to speech app and robust voice control system. High quality luxurious interior is much like its cousin Jeep Grand Cherokee, which undoubtedly makes 2014 Durango feel more upscale for its class.
If we take a look at its mechanical side, apart from its new eight speed transmission, which has actually added impressively smooth shifts along with improved fuel economy there is nothing much to talk about. However, the new transmission system has shown considerable improvements to the power of its base V6 engine, but it is advisable to go for optional V8 engine as it offers more energetic performance making 2014 Dodge Durango a strong consideration for futuristic SUVs. The reason why we and most of the reviewers recommending V8 engine over its basic V6 engine is that, if you wish to make the most of the 2014 Durango and take frequent advantage of towing ability, it is the best option you can go for without actually regretting it in long run.
2014 Dodge Durango's rich interiors unusually impressive handling and ride are one of the major and worthwhile reason to consider buying it in 2014 rather than going for any other mediocre midsized crossover.
But, there is one part where Durango fails to meet its competitors and that is its restricted cargo room, which is quite ample in other crossovers' falling in the same price band. There are some tough competitions for 2014 Dodge Durango in the family oriented crossover market and the prominent one is Chevrolet Traverse and Mazda CX-9 as they both offer considerably more cargo space. If you wish to explore more before making purchase of Durango then you must take a look at Ford Explorer and Flex. But, without nay denial there is no better six or seven passenger SUV in the market as of now then the all new 2014 Dodge Durango.