2014 Ford Explorer: A Popular SUV
Long back in the year 1991, when Ford introduced its Ford Explorer a number one sport utility vehicle of that time, which eventually cemented the popularity of SUVs offered a rather rugged alternative to awkward station wagons and at that time it was considered a perfect vehicle. Ever since, the SUV landscape has gone through the tremendous change, but in 2014 as well Ford has kept its basics right and has introduced the all new 2014 Ford Explorer with that same old nostalgic feel. The excellent combination of power, refined interiors, fuel economy and much more has made it even more desirable than before.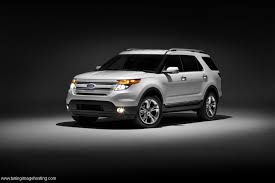 To keep pace with the modern SUV market, Ford has adopted the carlike unibody structure to construct Ford, thus taking break from their truck like underpinnings, which is common in all their older models. The biggest advantage for Ford with this new body construction is that it offers more cabin space, improved fuel economy and comfortable ride, all these features come as a basic expectation from any family vehicle and Ford Explorer has managed to meet them all. From inside as well, this time Ford has kept its interiors upscale, adding seven passenger seat option along with a comprehensive list of safety and convenience features. There are also some advanced and unique options available like heated back seats, which are not very common in SUVs of the same price band. Second row seat belt airbags along with lane departure and lane warning systems are all newly added features for traditional 2014 Ford Explorer.
Ford has kept its engine standard V6 offering 290 horsepower, which is perfect to meet the needs of buyers, but to make it more interesting Ford has included 2.0 liter four cylinder engine as an added advantage. However, the buyer has to pay additionally for this engine but trust us it's completely worthwhile because its power and fuel economy are best in this class. If you are still looking for the performance oriented Ford Explorer, than the company has also introduced its Explorer Sport Model with 3.5 liter turbocharged V6 engine with the power of generating 365 horsepower. Along with this, the sport version also offers firm suspension tuning and refurbished interior/exterior trim details.
Talking about the drawbacks of 2014 Ford Explorer, we got the conclusion that they mainly depend on the priority of the buyer. For example, if all member of your family are tall, than you might not find the second and third row seats comfortable as they are less roomier if compared to other crossovers. Same goes for its cargo space and its MyFord touch interface which has frequent glitches while operating. Also, the 2014 Ford Explorer feels bigger than it actually is while behind the wheel and is not at all an easy vehicle to maneuver while driving in tight spaces.
Possible alternative for 2014 Ford explorer are 2014 Chevrolet Traverse, 2014 Dodge Durango, 2014 Mazda CX-9 and Fords' Sibling Ford Flex as they all are roomier, versatile and upscale with many comforts which are not available in 2014 Ford Explorer.