2014 Hyundai Tucson: A Perfect Crossover
These days using the term compact crossover seems like a misnomer to many, but with the arrival of improved 2014 Hyundai Tucson, it seems that the trend for compact SUVs is surely going to make a comeback. Measuring about 173.2 inches from its starting point nose tail, the new Tucson is somewhere around 7 inches shorter than Toyota's RAV4, while on the other hand, Hyundai has kept Tucson 14 inches shorter than the Equinox by Chevy. Tucson trails its competitors in terms of passenger and cargo space has come as no surprise to us but when you look at its great maneuverability, you will find that the space issues have been compensated beautifully making 2014 Hyundai Tucson a complete fun to drive vehicle. For those looking forward for a hatchback on tip toes, Tucson surely fits the bill beautifully.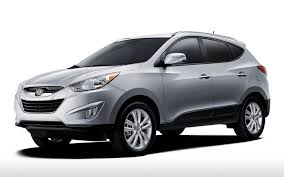 This year, Hyundai has introduced some notable changes in its Tucson's credentials to make it more enhanced and appealing, some of the primary changes include tweaked styling along with revamped model lineup as they bid adieu to the sparsely equipped GL trim level from last year and making the former midgrade GLS the base trim level for Tucson, which means that the even the basic and the cheapest Tucson will come equipped with all the standard features that make it worthwhile. the well stocked SE trim level is also something to look forward as it has been designed in a way to bridge the gap between GLS and limited. Hyundai has also shown significant improvements in Tucson's infotainment department with an update of new touchscreens, the SE and limited trim levels comes with standard 4.3 inch unit, whereas customers spending on Limited trim level can opt for a 7 inch setup which is available with optional navigation system. To make 2014 Hyundai Tucson more competitive, the company has reworked on its engine technology and has introduced new direct fuel injection technology, however the additions fail to make any significant changes in its fuel economy and output as it remains same.
Like any other crossover, 2014 Hyundai Tucson also has its share of flaws even if you keep its size concerns at the backburner. The rear seat doesn't comes with sliding option but has an improved reclining feature. The base level 2.0 liter engine lacks punch and even its sporty handling comes at a hefty price, but the ride quality remains on the firmer side. 2014 Mazda CX-5 can be versatile and dynamic alternative for 2014 Hyundai Tucson as it comes with 2.5 liter engine, whereas the 2014 Ford Escape is strikingly similar to Tucson but offer more technologically advanced features.
If you are open for a smaller SUV then look for 2104 Mini Countryman or affordable and less chic Nissan Juke. Kia Sportage can also be feasible option as it is same as Tucson mechanically and comes with additional turbocharged power which is good for people who like sporty performance. However, 2014 Hyundai Tucson still remains a solid option especially with the improvements it has come up with in 2014.