2014 Infiniti QX60 Debuts with Hybrid Version
Well in this time of tough competition when all the major SUV brands are coming up with the redesigned or refurbished versions of their previous successful SUV's, Infiniti has kept its 2014 QX60 exactly the same as its last years JX35, which was actually a new addition in their lineup of SUVs. The new 2014 Infiniti QX60 and last year's JX are more or less similar with minor shuffles in features and a newly introduced hybrid version. Besides the name change of this three row crossover from Infiniti the new model has come up with nomenclature of QX which Infiniti has kept to denote its range of SUVs wherein the number denotes models standing the Infiniti's lineup of SUVS.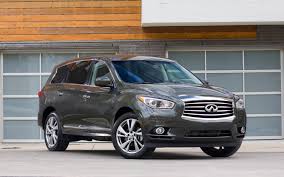 Just like the last year JX, this time QX60 is related to the Nissan's Pathfinder because their mechanicals are identical and there is only major difference in their styling, availability of add on features and interiors. The 2014 Infiniti QX60 boasts off more luxurious appeal from inside as well as outside apart from being an ideal vehicle for families in search of as perfect family hauler. Inside its spacious cabin, the QX60 has the potential to provide comfortable seating option to adults in all of its three rows and can seat 7 passengers comfortably. The second row seats can recline and slide nearly six inches back and fro which in turn offers ample legroom to the passengers while making access to the third row seats a breeze simultaneously. The material used for building 2014 Infiniti QX60 SUV's cabin is luxurious and comes with abundance of safety features inside the cabin. System has some advanced features to handle blind spot collisions and backing up incidents which make it a high on safety vehicle.
To make some changes in this year's Infiniti QX60, the company has introduced a new V6 powered engine and has come up with the optional hybrid version to look upon. The hybrid version of QX60 comes with 2.5 liter four cylinder engine and an electric motor with a lithium ion battery pack which promises to offer power of a V6 engine with four cylinder efficiency. With its given output figure of 250 horsepower and combined EPA fuel economy of 26 mpg, it looks like the hybrid version is powerful enough to achieve the claimed objectives successfully.
By now, you must have understood that 2014 Infiniti QX60 makes a powerful family rig, but it still has some quibbles which make it standard under the cloud of doubts. The odd pairing of the standard V6 engine and consistent variable automatic transmission are not capable enough to provide refinement and accelerative grunt, which is usually expected from the vehicle of this class. Same ways, the new QX60 lacks the athletic handling which is otherwise comes as a staple with Infiniti SUVs, instead it seems to be on a plusher side.
More or less, your likeness for 2014 Infiniti QX60 depends on your priorities and expectations from a crossover, if you are in search of luxury crossover which is also fun to drive then you have better options available like 2014 Acura MDX and 2013 BMW X5. But for a family hauling crossover that also speaks volumes of style and technology then surely 2014 Infiniti QX60 is an ideal choice.