2014 Infiniti QX80: Remains Unchanged
Aside from the new found name, there is nothing new to boast about the 2014 Infiniti QX80 and the only worthy addition that company has made to its most selling SUV for 2014 is back up collision intervention which is also more of technology based rather than styling based. For the competitive market of 2014 SUVs, Infiniti has failed to meet the expectations and has kept its entire line up pretty much the same. In such a scenario, we completely excuse you for not knowing what exactly the 2014 Infiniti QX80 has in store for you to get excited about. The only major replacement for 2105 is the replacement of name which was previously called QX56. Despite going under several name changes in recent years, you will still find 2014 Infiniti QX80 an appealing sports utility vehicle to look forward.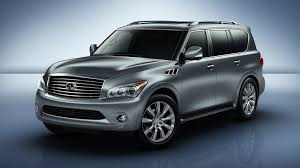 This year as well Infiniti is scoring high with its 400 horsepower V8 engine, which makes this deluxe SUV an admirable option and with its impeccable towing capacity of 8,500 pounds the 2014 Infiniti QX80 becomes even more desirable. Besides that, there are classy interiors to applaud and humble seating capability which can be summarized in either eight seats or seven seat vehicle depending on how you are utilizing the space. Rich looking luxury interiors and use of cutting edge technology have always been a plus point for Infiniti and remains the same for 2014 Infiniti QX80 as well. As always, there is no lacking for Infiniti in safety department as well and has a full gamut of active as well as passive safety systems, with the new inclusion of collision mitigation system which is completely optional for various trim levels. This big SUV from Infiniti for 2014 lives up to the company's heritage and offers reasonable athletic moves which make its handling smooth.
While these are the most praiseworthy and undeniable features of Infiniti that come with the package, some you might find it difficult to overcome the shortcomings 2014 Infiniti QX80 is accompanied with. The fuel economy of 5.6 liter V8 engine is lack luster if compared to others in the class and unlike its rivals, Infiniti fails to offer more competitive and efficient engine options. Even if you go for bigger 22 inch wheels, you will find that the ride has become stiffer and too harsh to handle. Moreover, the third row seats are meant only for adult kids and are not comfortable enough for adults to settle down.
Because of the lack of anything new if compared to rivals, we would suggest you take a look at other better available options, wherein Mercedes Benz GL class tops the list, although it will be a little harsh on your pocket, but it will definitely come with luxurious ambience and excellent fuel economy. Quick acceleration and spacious third row seats also make Mercedes Benz GL class a better alternative to 2014 Infiniti QX80. Other viable options include 2014 Lexus LX 570 and 2014 Cadillac Escalade because both are known for their excellent off road ability.