2014 Kia Sportage: A Complete Head Turner
These days, every prominent car maker makes his best effort to keep at least one small size crossover available in their showroom, so that they can meet the requirements of the small SUV market. To keep pace with the ongoing trend Kia has also introduced its 2014 Kia Sportage, but the question that remains here is that whether it is worth a look? Well, lets' have a close look at it, so the first thing that caught our attention is its head turning looks, followed by plethora of desirable features and impeccably strong performance.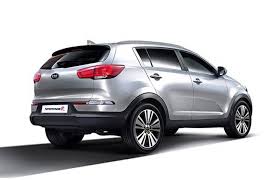 To make it a newest and freshest edition in its small SUV segment, Kia has included an updated 2.4 liter engine with direct injection feature which make it powerful than before with improved efficiency. Other prominent features that have made addition to 2014 Kia Sportage include refurbished interior styling , high performance suspension tuning is common across all trim levels, xenon headlights, touchscreen system, improved navigation system, high tech and new sound system, ventilated front seats and air vents for rear seats as well and upgraded UVO telematics services for enhanced driver experience. To make 2014 Kia Sportage more up-market, this time the car manufacturer has dropped its previous base trim level along with manual transmission from its lineup.
Sharply tuned front ends and muscular fenders makes Kia Sportage stand out from the rest of small crossovers. And surprisingly, we found out that the amazing looks OF 2014 Kia Sportage from outside and beautiful complimented from the inside when we took a sneak peek under the hood. The new base with 182 horsepower and 2.4 liter four cylinder engine is powerful enough for a crossover of this size. However, the SX trim level turbocharged 2.0 liter four cylinder engine has the ability to take things to a higher level. The turbocharged engine will generate 260hp and has the power to scoot from 0 to 60 mph in just 6.5 seconds. The biggest factor that makes Kia Sportage 2014 the best bet in the small crossover market is its prize, which company has kept very minimal keeping its top end features like navigation and ventilated seats in mind if compared to other fully loaded small SUVs' ready to hit the market.
If we look into the downside of the 2014 Kia Sportage, there are hardly any to figure out but these few drawbacks can make a big difference for many buyers. The first negative for this small SUV is its interior space, which is quite small if compared to others and falls reasonably short on passenger and cargo space. Thus, making it a not so ideal car for those looking forward to hop around with kids and cargo. On the other hand, some might find Kia Sportage a fun to drive option, but for some it might be too firm for their liking which might be because of its engine and fuel economy.
Some of the top competitors for 2014 Kia Sportage are 2014 Honda CR-V, 2014 Subaru Forester and 2014 Toyota RAV4 as they offer much better cabin and cargo space. Those looking for sprightly driving dynamics 2014 Ford Escape and 2014 Mazda CX-5 can also be a good option.