2014 Lexus GX 460
The new Lexus luxury utility vehicle (LUV), 2014 GX 460 gets all gussied up and quite extensively so that the mid-sizer seems less a truck than a Lexus on stilts. The freshened up GX 460 went through far deeper facelift than the now-trademark spindle grille and the LED applied to the Lexus LX 570 last year. The equally tough and trail SUV now boasts gigantic rear fender flares and  striking front grille design that marks the extreme L-finesse. Though not the sleekest SUV in town, the 2014 Lexus GX 460 prides itself on global heritage just like Toyota LandCuiser Prado! Also the truck like demeanor is evident of the fact that this is going to be, if not the best and the most rugged, one fine play on the market of off-roaders. And all of it comes under a reasonable price despite additional technology and safety equipment that are included as standard. Cherry on the cake!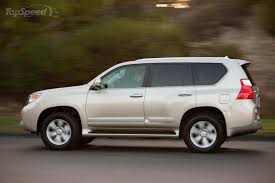 The raised roofline, necessary to make sufficient space for the third row of the newly designed seven-seater still got generous ground clearance of about 8.3 inches minimum. The unconventional hour glass shaped grille on the Lexus GX 460 though getting mixed responses is still unique and is sure to make the little SUV to turn heads and stand out. The LED daytime running lights in headlamps are a success. Lexus's white LEDs are every bit bright as bright and helpful on roads as in SUVs from Audi or BMW. Excellent for low visibility conditions these LED lights use a very little amount of energy and provide a prominent light graphic for road safety. The clear taillights are strange as the fashion aware buyers of the Lexus legacy might question them but they still strike out.
The midsized SUV, 2014 Lexus GX 460 sports a 4.7 liter V-8 engine belonging to the Tundra pickup. Generating enough power of 301 HP and mated to an all-new-five-speed-automatic-transmission and a Torsen center differential which biases the torque (329 pound feet of torque) towards the end with traction, this engine makes this SUV maneuverable with a  light duty full time four wheel drive. The car can reach up to 60 mph from rest in a sprint time of 8.5 seconds while it sports a top speed of 112 mph. The undeniable capability and the body-chassis structure of the new 2014 Lexus GX 460 make it deft enough to be creek-and-groan-free in the rough. However, being more of a luxury utility vehicle you might want to keep it away from way too nasty conditions for it is quite plushly outfitted for that.
It is expected that the 2014 Lexus GX 460 will be seen competing with the BMW X5 and the Mercedes ML500 and possibly Merc GL too while it's priced at a sum of $45,000. For the love of a gritty feel of a 4WD truck underneath your seat the GX is massively appealing. This purposely built off road machine is added with extra style and so much luxury along with a giant price cut making it one definite consideration among serious SUV fanatics!