2014 Mercedes Benz GL Class Remains Largely Unchanged
Since time memorial, automotive critics have always favored traditional wagons over SUVs because of their utility and performance, but the all new redesigned refurbished 2014 Mercedes Benz GL Class with three rows have made us don the hat of devil's advocate and make you have a look at all the positives of this new crossover from Mercedes. Mercedes continues to offer its standard E-Class wagon with rear facing third row seats, which are good only for kids to fit with their feet pointing in the wrong way. For cargo space, none of the wagons available in market can come closer to GL Class's 93.8 cubic feet space, which in itself is quite a lot. The useful 7.8 inches ground clearance comes as a result of excellent air suspension and its availability increases with the touch of a button. So, with that much of information, if you have started thinking that the all new 2014 Mercedes Benz GL Class is making more sense, then wait, there is a lot more to discover to reach any conclusion.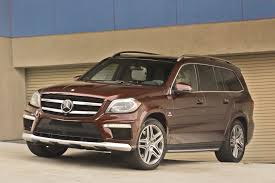 To begin with even the most difficult to impress critic will not be able to stop himself from admiring GL's wide range of talents. To beat the standards of wagons in terms of third row seats comfort, GL comes with a real feel third row seat option with two adult sized seats that make the 2014 Mercedes Benz GL Class a legitimate seven seat vehicle. Apart from wide cargo space, GL comes with impressive and well finished cabin which is fitted with a long list of standard Mercedes luxury and convenience features to boasts off. The diesel version of GL350 Bluetec has been rated a healthy 22mpg on daily drive and 26mpg on highway. The stout towing capacity of 7,500 pounds of 2014 Mercedes Benz GL Class is quite impressive if equipped properly.
Fuel economy can never be a matter of concern for Mercedes users because it is one department where Mercedes overpowers one and all. But, most of the critics have made a notable point about Mercedes Benz GL Class's handling and that is it might feel a bit heavy vehicle if you are not driving the GL63 AMG trim level, which is lighter than others. Otherwise it will feel bulk every time you take a turn around the corner. Surely, nimble moves have never been a priority for a vehicle of this class. Thus, such small glitches are quite avoidable.
For 2014, you will not find many notable alternatives to 2014 Mercedes Benz GL Class range, still if you are looking for something else then you can have a look at the likes of 2014 Infiniti QX80 which comes with brash driving and V8 power engine which might seem old school, but is not at all old in terms of performance. On the other hand 2014 Lexus LX 570 comes with its own powerful V8 engine and some really impressive off road capabilities. But when it comes to tally scores at comparison table, you will find that GL is leading others in almost every category. Some you still might think that wagon is a better option, but for a full sized three row luxury SUV lover there can be nothing better than 2014 Mercedes Benz GL Class.