2014 Mitsubishi Outlander: The Underdog
To beat the competition in 2014, Mitsubishi has reintroduced its 2014 Mitsubishi Outlander with extensive redesigning and inclusion of several notable features like improved mileage, third row seat, nice and luxurious interior along with use of advanced technology in several features. Every SUV loves likes to root for an underdog SUV but to an extent only and undoubtedly 2014 Mitsubishi Outlander is an underdog for the thriving small SUV segment. Despite some significant improvements which it has shown this year, you will not find Outlander as your first choice to buy an SUV when the market is flourished with fully loaded feature packed options. Although, market reviewers are considering 2014 Mitsubishi Outlander a solid entry still it has its own drawbacks if we take a close at it moneywise as well as feature wise.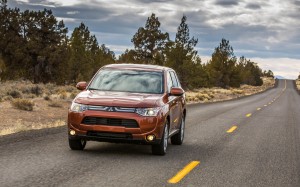 Consumers who are in constant search for a different kind of small crossover, the third generation Outlander by Mitsubishi have a number of things that make it fall under this different category. To start with, the tweaked powertrain with improved aerodynamic styling amalgamated by improved EPA fuel economy are some of the features that add value to the Outlander. The 2014 Mitsubishi Outlander is now capable of providing 31 mpg highway, which is an above average number for a seven seat crossover. If you look at the combined mpg for Outlander which is altogether a more important criteria, it goes up to 2 mpg for four cylinder as well as V6 engine. This year Mitsubishi has done some welcome changes in the interior of Outlander to make it more overhauled. Improved material quality, stylish design and high tech telescoping steering wheel, which is good for driver's comfort and sturdy third row seating have become standard across all trim levels of Outlander.
Optional features like collision avoidance, adaptive cruise control, and lane departure warning system have surely added an advantage in Outlander over its competitors, additionally Mitsubishi has announced to plug in its hybrid model as well later this year to increase its market probability. But unlike any other seven seat crossover, 2014 Mitsubishi Outlander also has its share of drawbacks which negatively affect its changes in the market among which some of the prominent ones are its conventional lack luster engine which is very uncommon for this class, cramped third row seats which make it ideal for kids only and Mitsubishi's small dealer network is another major drawback that can reduce its chances in the market to a large extent.
Keeping all such factors in mind, it's actually better to look for 2014 Mitsubishi Outlander's alternatives and in this case even five seats passenger crossovers can be a competition for Outlander. Ford Escape, Honda CR-V, Mazda CX-5 and Toyota RAV4 are some of the most convenient and prominent options to look for. However, in seven seat segment there are some other options like the Kia Sorento and Hyundai Santa Fe, which obviously are far better than Outlander in every possible manner. Although, Outlander has a tough competition to face in 2014 SUV market, but the underdog is still worth a look in compact crossover segment.