2014 Nissan Pathfinder: Eco Friendly Model
For quite some time it has been observed that most of the car makers have started transforming their truck based SUVs into gentler and kinder crossovers. To go by the flourishing trend, Nissan has come forward with its 2014 Nissan Pathfinder, which has also emerged as the latest example of the ongoing trend and for almost every reason, the emergence seems to be for nothing less than good. Although, the newly introduced 7 passenger SUV has lost its towing and off road capabilities which were the main attractions of its predecessor, but just like any other transition mode this large crossover from Nissan has also gone under some tremendous changes that will make it high on utility. The all new 2014 Nissan Pathfinder has been redesigned completely and is ready to impress the buyers with its spacious and refurbished interior with main highlight of adult sized seating for both second and row passengers. Superior ride and excellent handling qualities will surely make 2014 Nissan Pathfinder an ideal option for carpool or tough shopping trips.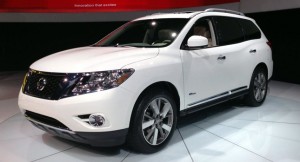 3.5 liter V6 engine is the main source of power in pathfinder along with its continuously variable transmission that provides the option to drive on front wheel or on the all wheel mode in the all wheel drive models. With the availability of CVT the pathfinder manages to achieve fuel economy of 22 mpg for the front wheel drive models and 21 mpg for all wheel drive models. These numbers might not be very attractive for some but if compared to several other seven seat pathfinders Pathfinder stands among the most efficient ones.
If you are unaffected by the mpg number of Pathfinder, then company has also introduced the Hybrid version of 2014 Nissan Pathfinder which is fitted with a supercharged 2.5 liter four cylinder engine powered by 15 kilowatt electric motor. If you take a look under the hood of the hybrid version you will find the neatly packed lithium ion battery under the third row seat, which has also lead to significant fuel economy improvements without making any compromise in cargo and passenger space. Because there are very less number of 7 passenger hybrids in the market, 2014 Nissan Pathfinder can be your potential preferred choice over the slightly more fuel efficient 2104 Toyota Highlander's Hybrid version, which is also the only option falling under this price band.
If you are still not settled with the positives of 2014 Nissan Pathfinder, then there are some mid to large size three row crossovers to consider. We would recommend you to consider 2014 GMC Acadia if roomy and spacious cabin is your top priority, while on the other hand 2014 Mazda CX-9 also has roomier cabin than 2014 Nissan Pathfinder, CX-9 also excels in ride and handling dynamics which are quite impressive for such a large sized crossover. The Dodge Durango and 2014 Ford Flex can also be your picks if you are looking for engine and performance based SUV, but in none of these alternatives you will find Pathfinders' great strength, exceptional interior and great fuel economy.