2014 Subaru Forester: A not so gorgeous yet powerful SUV
So from the first look, there is hardly any chance that you will find the 2014 Subaru Forester stunning or even gorgeous, because the car is all about being wide, long and roomy, however this version of Subaru is a lot sleeker than its predecessors. For all those Subaru buyers here comes the good news, the base motor now comes with the all new crisp, six speed gearbox giving rest to the age old five speed version. The new CVT is more efficient than the automatic four speed transmission.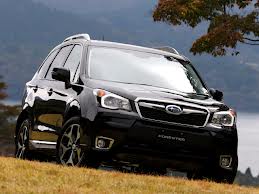 The newly launched turbocharged XT model of 2014 Subaru Forester comes with 250 hp engine which offers same fuel economy as the currently available 170hp 2.5X model. Its fast acceleration from 0 to 60 within 6.2 seconds makes it one of the fastest over among its competitors. The lovable 2.0 liter engine in the XT comes with direct injection feature.
The latest version of Subaru Forester is well planted, composed and is a quieter SUV that comes with a complete package if Subaru Forester features that a buyer looks for. The car is intercooled, has turbocharged monster engine, beefed suspension and amazing stouter brakes that makes it an all comfort drive during snowy stormy days. Well calibrated steering has electronic assistance feature that makes path adjustments simple and direct. Stiffer chassis and no hint of rattles make it a best car in class.
Over the years Subaru has proved its mantle over bringing subtle and smart changes in the detailing of their luxury vehicles and this continues with the latest Subaru Forester as well. Front doors come with no sill which means you will no more find dirt collecting place near front doors. Interiors are all stylish with panache of any banquet and this also the same place where Subaru lacks. No negative word for this SUV in terms of its driving quarter, comfortable seating position, telescoping steering wheel and the clearly reengineered structure, but the SUV still lacks sex appeal, which can easily be found in its competitors like Mazda CX 5, Kia Sorento and Ford Escape that comes at approximately same price.
In more than many metrics, the 2014 Subaru Forester is very well darned and is also one among many crossovers that can be taken to a muddy terrain without much thought. The 8.7 inch ground clearance keeps you safe until you end up bumping on some seriously tough road. Manual gearbox version is also available for the buyers, but the newly launched CVT with manual gearbox makes a less logical choice for obvious reasons and one among them is fuel economy.
Ample of rear legroom and overall improved cargo space as compared to Nissan Rogue, Honda CR-V, Ford Escape and Toyota RAV-4 makes it a comfortable and spacious option while buying a crossover. The driving dynamics of Forester being an engaging option is still arguable because of competition coming from Crossover leaders like Mazda and Ford but none of them offers Subaru's ground clearance. Vanilla cockpit can certainly put the sale of Subaru Forester at the back burner.