2014 Subaru XV Crosstrek: Taking Subaru legacy Further
In the automotive industry, the term crossover refers to a vehicle wherein the architectural design is inspired by the car instead of truck, but overall it offers SUV like functionality. Also, the crossover SUV segment is so vast that sometimes you will find SUVs which resemble the traditional crossover dynamics, while some might be burly SUVs, whereas there is this third kind of crossover SUVs like 2014 Subaru Crosstrek, which is essentially a wagon based vehicle with more toughened up suspension and styling.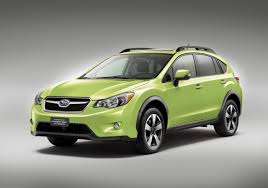 To say the least, Subaru has been doing commendable job in crossover segment successfully for quite some time and has also created a Legacy for itself with its Outback series. Going by the same tradition, Subaru has come with a relatively new Crosstrek, which looks more like an Impreza hatchback with refined suspension and Subaru's obligatory rugged styling accents. The all wheel drive of Crosstrek is as adept as you may want it because it has the potential to make your weekend fun filled with trailhead and can also take you the crumbling pavements during the weekdays.
As you would have expected, 2014 Subaru Crosstrek is offering all wheel driving feature as a standard in all trim levels, but you can have five speed manual CVT in XV Crosstrek as a n option. Its wheelbase is also 3 inches higher than the Impreza and comes with beefed up underpinnings. The 8.7 inches ground clearance and the availability of black plastic wheelwell flares is excellent for fending off and hiding scratches while driving on tough trails. The company has kept the interiors simple and the controls are also very straightforward, use of good quality material and comfortable seats is like icing on the cake.
The biggest news for this years' XV Crosstrek is the introduction of its hybrid version, which is also Subaru's first ever full hybrid vehicle. The new hybrid version has the ability to propel in low speed using electric power, which makes it highly fuel efficient even when driving through drive and go city traffic. However if you look at its overall fuel economy you will find 2014 Subaru Crosstrek only modest enough. The Subaru is pegging its hybrids combined fuel economy with the average of 31mpg, which is just 3 mpg above its non hybrid version. Going by its high price, you sure can have double thoughts about going for Crosstrek's hybrid version, as it might not suit your pocket well.
If we take an overall look at Subaru XV Crosstrek for 2014 you will find it has some enhanced features like all wheel drive, improved off road ability and wagon like characteristics, which actually make it a rather distinctive kind of SUV for this class. If you look for options you will find that Nissan Juke is more fun driving experience but lacks cargo space as well as versatility. Other competitors for Subaru XV Crosstrek are 2014 Mini Cooper Countryman and 2014 Mitsubishi Outlander Sport, but still you will find Subaru to be a better all round package for those who love small crossovers.