2014 Toyota Sequoia: Remains Unchanged
In today's world there will hardly be anyone who will deny the captivating appeal of crossover SUVs as they have become the most preferred mode of luxury transport for those who love to spend on vehicles. In such appeasing market of small crossovers, Toyota has come forward with its traditional style SUV 2014 Toyota Sequoia to challenge the mass appeal of crossover SUV as still there are handful of buyers who love to take a ride in old school SUVs which are a beautiful amalgamation of towing muscle and seating capacity for a big family. This truck based SUV from Toyota has been given thumbs up by some of the critics for its refinement and powerful packaging which surely make it a worth purchase of this kind.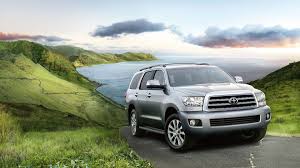 To keep things simple and unchanged, Toyota has used the platform of its Toyota Tundra to build the modified version of Sequoia for 2014. The new 8 passenger 2014 Toyota Sequoia comes with the powerful 318 horsepower 5.7 liter V8 engine, which is uncommonly smooth for a crossover of this kind and delivers robust acceleration when driving on busy streets during weekdays. It also has the power to tow trailers up to 7.400 pounds during the weekends if looking for a tough and long weekend getaway. With decent handling performance, Sequoia offers comfortable ride to make it worthwhile. Inside the Sequoia you will find comfortable and spacious cabin and to make things more interesting for passengers, Toyota has made the seating flexible and has enough room to accommodate 8 passengers comfortably. Even the base model of 2014 Toyota Sequoia comes well equipped with all the standard features that a Toyota comes with, whereas the higher trim levels of Sequoia offer a host of standard features which are at par if compared with a upscale luxury sedan.
If you are among those SUV lovers who have almost no liking for the towing capabilities of 2014 Toyota Sequoia, then lighter duty three row crossover SUVs are the ideal option for you. Such SUVs are easier to live within day to day life and also offer excellent fuel economy as compared to the likes of Toyota Sequoia.
When it comes to the alternative for 2014 Toyota Sequoia the list is quite impressive as the SUV market is flourished with midsize as well as traditional SUVs that are far better than Toyota's version. The closest competitor for 2014 Toyota Sequoia is 2014 Chevrolet Traverse, which is roomier than latter and the second one is Dodge Durango, which has more towing capacity even with its small size. In traditional full size SUV segment the nearest competition for Sequoia comes from Chevrolet Tahoe/Suburban and Ford Expedition as they all come with their own distinct appeals, but lack the features package that comes handy with Sequoia. Even though 2014 Toyota Sequoia is not meant for every SUV lover, but we still recommend it to those who give importance to a vehicle that can provide comfortable seats to small crowd, tow big trails and most importantly do both the things at the same time.