Monthly Archives:
March 2014
For 2014, Acura has completely redesigned its MDX model with highlights like improved fuel economy, luxurious high quality interior and improved control interface. The revamped 2014 Acura MDX illustrates its evolution as well as benefits it comes with. The previous generation SUV model from Acura was quite a success among buyers, especially the ones who like midsize luxury crossovers because it came with luxurious nature and sporty performance at a much lower price as compared to other luxury midsize crossovers. But, as we say there is always a room for improvement, so has already been implemented by Acura in its new MDX as they have made some canny upgrades to present a more refined version with the aim of achieving broader appeal.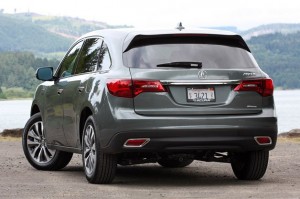 2014 Acura MDX
MDX which hit the market last year has the same platform as Honda and Odyssey, however this year it comes with a rather new platform that provides a slightly increased interior room. The addition of useful new features in 2014 Acura MDX like forward sliding second row with touch button feature to facilitate third row seats access makes it a complete value for money. Array of control buttons which were quite a put off in previous versions do no longer exist and have made way for a smarter 7 inch touchscreen panel making dash look more cleaner and modern.
Under the hood, 2014 Acura MDX has introduced new 3.5 liter V6 engine which offers lower end torque because of its direct fuel injection technology. However, the horsepower is less by 10hp if compared to its previous version 3.7 liter engine. The car maker is saying that their new MDX is powerful enough to reach from 0 to 60 mph half a second earlier then what its previous version was offering because this time they have reduced weight almost by 275 pounds. The newly introduced engine also brings with it improved fuel economy and their AWD models specifically offer up to 17 percent improvement in the mpg. Make a first critical move in its midsize crossover production, Acura offering MDX 2014 with two wheel drive option which is quite a gift for buyers living in mild climates as it becomes fuel efficient and less expensive.
The talent featured by Acura MDX all these years is quite formidable, but it also faces tough competition from the better and pricier versions of midsize crossovers which also ready to hit the 2014 SUV market with even more pomp and show. Giving direct competition to Acura MDX is 2014 Buick Enclave, which is undoubtedly more spacious and less expensive but also lacks the refinement and handling offered by Acura. In refinement and technology, 2014 Acura MDX has a competitor in 2014 BMW X5 which is more or less a performance oriented SUV but is slightly higher on the price band. On the other hand, Infiniti's QX60 and MKT from Lincoln fail to offer enjoyable driving dynamics which are a positive point with Acura MDX. So, if you are also looking for a midsized SUV that can offer pleasant handling, excellent driving dynamics, and lovable features then highly evolved 2014 Acura MDX is our best pick.