Daily Archives:
March 7, 2014
SUV, Sports Utility Vehicle, is a hit among those who love to drive something giant. SUVs have recently become very popular across people of all ages and belonging to all classes. Many companies have launched their SUVs in the market and are satiated with the response. Chevrolet, a prevalent name among the car manufacturers is always been admired for its SUV range of cars. The company is now out with its 2014 Chevrolet Tahoe model.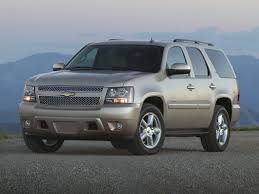 Tahoe has been in the market for almost a decade now. Tahoe's full-size macho looks and robust engineering has enabled it to become splendidly popular among many. The company has been working on Tahoe's features and has unceasingly launched new and improved models every year but this time it is after 2007, that Chevrolet has reworked on Tahoe. The brand new Chevrolet Tahoe 2014 has been ranked as number 1 affordable large SUVs and also number 1 in the category of affordable SUVs with 3 rows. What is that makes the car number 1 among many of its contemporaries? Is it the look? Is it the powerful engine?
The answers to all these are right here. The ones who have ranked Tahoe as number 1 say that the car outdoes its rivals in many ways. Its advanced powertrain, simple yet sophisticated interior and yes a comfortable ride make sit stand apart in the race.
Mechanics
Tahoe 2014 has highly impressed its reviewers with its powerful engine make. Here are the technical specs of the car:
V8 engine empowering the car with smooth operation
Six-speed automatic transmission enabling it to have a smooth-shifting
Mileage- 15/21 mpg city/highway- The car has a highest fuel economy among the cars of its class
Small turning radius investing the car with the power to move easily through tight spaces. It is an easy to park car and can easily find its way even through jam-packed areas.
Interior
The car interior has been redesigned after a long gap. The interior is mostly made of plastic yet it looks elegant. The regular features of Chevrolet Tahoe 2014 include:
Six-speaker stereo
USB port
Satellite radio
Bluetooth phone connectivity
Tri-zone climate control
Backup camera
Rear parking sensors
There are some optional features as well like:
Rear-seat entertainment system
Automatic tri-zone climate control
Bose stereo system with 9 or 10 speakers
Chevrolet Tahoe's navigation system is user friendly and liked by the reviewers. With a surround sound high quality stereo system, the ride becomes a wonderful never-ending experience. The car has been able to earn positive reviews and loads of appreciation from experts. Many auto magazines online and offline have published good reviews about its performance and decent looks.
"A smaller sibling to the massive Suburban, the Tahoe manages to combine broad-shouldered toughness with a refined demeanor, making it a good choice for those who take long road trips with their toys in tow." – Edmunds, 2013
With its affordable pricing and high fuel economy, Chevrolet Tahoe 2014 is assuredly a good buy. The years of good reputation and high ranking adds to his demeanor.