Monthly Archives:
April 2014
Looks like Lincoln is in no mood to take the competition lightly in 2015 and to keep its stake high in the 2015 full size luxury SUVs market, they have come up with their completely restyled and upgraded 2015 Lincoln Navigator to reassert its position in the blooming full size SUV market. The inclusion of new grille with split wings is the most obvious change you will notice at first look. Apart from that, there are large HID adaptive headlamps which prevent wings from folding around the tall front end. But the most highlighted improvement in its styling is the inclusion distinct chrome gates which look quite epic on the face if this large SUV.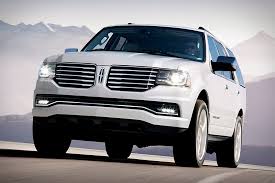 The rear end seems to be more subtle and has not gone through major evolution matching steps with classic Navigation line including their signature full panel LED taillight spanning beautifully over the power liftgate. Wheels are standard 20 inches but you can opt for 22 inch as well for added pressure. The proportions of current 2015 Lincoln Navigator are same as before with 8 passenger seating, 103.3 cubic feet cargo space which exceeds to 128.2 cubes for the lengthier models.
For 2015 Lincoln Navigator has made bigger changes under the hood of their Navigator, wherein the first and the foremost change is replacement of V8 engine with twin turbocharged EcoBoost V6 engine which can generate upto 370 horsepower. The downsize engine has the ability to generate more power in comparison to the previous one and also ensures improved fuel economy along with 430 pound feet of torque, which makes Navigator a tough competition for hauler of this class. Whether it is luxury of performance, navigator is powerful enough to challenge the haulers. The new engine is complemented by automatic six speed transmission, which is capable of routing power to the rear wheels and to all wheels in all wheel drive models.
Many of the reviewers believe that 2015 Lincoln Navigator has its foundation of a truck, but the plush ride offered by it is its hallmark. The optional adaptive suspension feature reacts to roads conditions in millisecond to provide cushioned comfort to the passengers on bumpy roads. Lincoln has carried over its Sedans center stack design to the Navigator as well, but to make it improved has added real knobs and buttons to it. Multimedia experience is anchored by MyLincoln Touch System, which also over touchscreen control over hands free phone, climate functions, audio and navigation. Although its' an acquired taste for Lincoln lovers but has been improved a lot with software update, additionally the rear view camera is standard whereas the blind spot detection feature is optional.
The inclusion of new styling and new technology will surely make impact on its price as well which will surely be somewhere around $60,000 because the current model is prized $57,000 at the base level. Even at this price, the 2015 Lincoln Navigator makes a compelling choice if compared to other full sized crossovers. Cadillac Escalade or the Mercedes-Benz GL-Class have also been redesigned to meet the market needs and make an alternative of 2015 Lincoln Navigator.