Family Utility Vehicle: 2015 BMW X3
When the concept of luxury compact crossover came in forefront decade ago, BMW was among the top names that played a prominent role in launching the same and they made their BMW X3 the launch vehicle for small crossovers, which has grown stronger over the years with its performance and utility. There is no denying that BMW is one of the most loved standout among this competitive class and has always been an ideal vehicle for the SUV lovers looking for both family friendly utility and excellent driving dynamics. Keeping everything true to the BMW fashion, the new 2015 BMW X3 sports superior handling and appealing performance which form the heart of the X3.you will find that typical luxury crossovers remains uninspiring while driving on the canyon roads, but 2015 BMW X3 breaks the mold with its amazingly sharp reflexes, which also make it a top pick from its class for efficient driver management.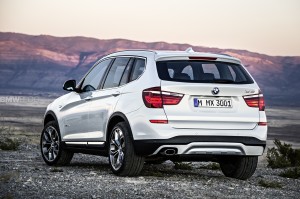 For 2015 BMW X3, the car maker has made available a range of engine capable enough to make it performance driven SUV. The entry level X3 will come with turbocharged 2.0 liter four cylinder diesel engine, which is new for the 2015 version. The engine is capable enough to deliver 180 horsepower with the torque of 280 pound feet and most importantly boasts the mileage 30mpg combined which is also the strongest among its engine lineup. But it is evident that most of the buyers will definitely opt for the more energetic and frugal 240 hp 2.0 liter four cylinder engine version, which will be available for 28i models. To round things out in its exceptional X3 xDrive35i trim level, the BMW has introduced turbocharged 300 hp, 3.0 liter inline-6 that makes the X3one of the perkiest and quickest in this section, also no compromise has been made in its fuel economy.
The fun to drive disposition of this crossover has been beautifully complimented by its opulent cabin space, which is comfortable and highly utilitarian. Low key luxury is the best word to describe the interior furnishings of this 2015 BMW X3 as they are meted with stylish design, outstanding quality material, endlessly supportive front seats and much more which makes it an ideal vehicle especially while driving on canyons or logging through highway miles for a long trip. BMW X3 is also ideal for family duty because of its spacious rear cabin and excellent cargo space.
The 2015 BMW X3 faces impressive rivals having their own list of strengths and weaknesses. The foremost competitor for X3 is Audi Q5 as they both share the same blend of driving dynamics, utility and variety they offer with engines. 2015 Porsche Macan, the 2015 Acura RDX, 2015 Volvo XC60 and Mercedes-Benz GLK350 are also some of the competitors that one can look forward to. But you will find that some of them fall short when it comes to cargo space and legroom, which adds value to X3. Overall, 2015 BMW X3 outshines all whit its well rounded model and features even if it falls on a pricey side.