Fully Redesigned 2015 Chevrolet Suburban
With the emergence of small SUV crossovers, many of you might be thinking that the era of hulking full size SUVs like Chevrolet Suburban is over. But you are completely wrong! To give tough competition to small and midsized SUVs, Chevrolet has reintroduced its 2015 Chevrolet Suburban that meets the needs of drivers who love to have roomier crossovers for big families along with the ability to tow large cargo items, which make it a premier SUV vehicle for 2015.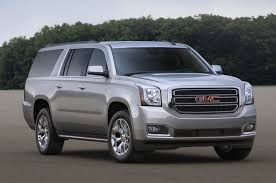 To meet the high standards of coming of the age generation, the 2015 Chevrolet Suburban comes completely redesigned, but it's still riding high on its traditional body on frame architecture which is loosely based around the structure of its Chevrolet Silverado. The Suburban is also very much like Silverado in terms of styling, which prominently includes new grille, sculpted sides, full width bumper and more modern and aerodynamic fenders.
Looking into the more important factors of Suburban, we found that this time Chevy has includes a new 5.3 liter V8 engine featuring its brand new injection and cylinder deactivation features which makes considerable improvements in its power and efficiency. The new V8 engine is capable of generating 355 Horsepower along with 383 pound feet of torque along with its automatic six speed transmission equipped with two haul modes and technically advanced grade braking function which is also automatic. For heavier workforce version, GM's latest 6.2 liter V8 engine is a likely replacement for all its 6.0 liter engine options, however, Chevy hasn't yet confirmed the availability of this engine for Suburban yet. The upmarket 6.2 liter engine of 2015 Chevrolet Suburban has the potential to generate 420hp and 460 lb-ft of torque and has the ability to tow up to 8,300 pounds of cargo.
To make Chevy 2015 Suburban lighter and slimmer, the company has shed almost 250 pounds of aluminum and stainless steel, which is quite visible in its aluminum hood, trim liftgate panels which have made it cut some flab, but some features have lead to the negotiation of all the weight loss Suburban has gone through. Standard airbag between driver and passenger, blind spot warning, lane departure warning, active cruise control, forward collision alert and adaptive suspension which is available on LTZ models are praiseworthy in 2015 Chevrolet Suburban.
To make it a nightmare for thieves, Chevy has introduced some smart safety features in 2015 Suburban, which primarily include sensors for windows and glass breakage, interior movement and vertical movement. Whenever a thieve will try to break into your Suburban, the sensors will be triggered and alarm will start buzzing, while shutting down all key systems simultaneously to amek it impossible for a thieve to start it. Improved upholstery quality, luxury dash board and control panels with 5 to 8 inch touchscreen display and Chevy's flagship MyLink smartphone integration comes as a standard feature in 2015 Suburban. This time the 2015 Chevrolet Suburban comes with third row seats that can easily be folded on the floors. Previous generation Suburban requires removing the third seat to make additional cargo space. However the ample 16 cubic feet cargo is no more available and you have to settle down with 121.1 cubes of cargo to work with after folding the seats.
Market watchers are speculating that the 2015 Chevrolet Suburban might hit the market by next summer and will be priced somewhere around $45,000.