2015 Chevrolet Trax SUV Crossover
With SUV market taking a plunge in terms of technology and refinement, things have become quite competitive for the car makers to retain their position in the market. The heat of stiff competition becomes evident with the move Chevrolet has taken to balance the crossover segment with its all new 2015 Chevrolet Trax SUV, which is also being touted as the smallest SUV coming from Chevy till date. Some of the buyers might mistake it as a youthful and glorious twin of Buick Encore, but it is not the same in more than one ways. Although, Trax is built on the same platform that of Encore which is also closely related to the Sonic subcompact Sedan from Chevrolet.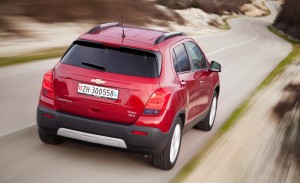 Chevrolet has introduced Trax with front wheel drive technology and will also be available in LS, LT and LTZ trim levels, wherein all of them will have 1.4 liter four cylinder engine capable of generating up to 138 horsepower along with its six speed automatic transmission. All wheel drive option will also remain available as an additional feature. The expectation set by 2015 Chevrolet Trax claims that front wheel drive model will be good enough for 26mpg city and 34mpg highway mileage.
Although, Chevy has reduced the size of Trax almost by 20 inches if compared to its current smallest crossover, the Equinox, the SUV still manages to offer the cargo space of 48 cubic feet, which is just 15 cubic feet short of its Equinox. The good thing about 2015 Chevrolet Trax is that you can easily fold its front seats to haul items up to 8 feet long. To keep pace with the competition, Chevy ahs left no stone unturned and used the best possible technology to build the crossover of this class. Some of the prominent high tech features introduced in the Trax include a standard 7 inch touchscreen, rearview camera, 4G LTE hotspot optional and also the latest suite of in car apps supported by the MyLink from Chevy. To make the things more interesting for 2015 Chevrolet Trax, the company has included a unique nifty feature that allows display of GPS navigation from your smartphone, which also allows users to forgo the traditionally integrated navigation systems of the vehicle.
2015 Chevrolet Trax is all set to reach the dealers near you by the end of next year and is also all set to compete with the small crossovers like Nissan Juke, Kia Soul that have already taken the small SUV segment by storm. There are other forthcoming competitors for Trax as well, which primarily include Jeep Renegade and Honda HR-V. Going by the competition the Trax will be facing, it is being speculated that it will be priced somewhere around $20,000, to keep the selling preposition high. If you compare its price from other versions of small SUV's available in the market you will find that Buick Encore costs around $25,000. Full review, specifications, reviews and more info about the 2015 Chevrolet Trax is still awaited and is expected to reach the dealers before it hit the roads.