2015 GMC Yukon: A Premier Alpha SUV
If you are thinking that the era for big and bulky full sized SUVs is over, then you are wrong because there are still some SUVs like 2015 GMC Yukon that can fulfill the need of the drivers looking forward for a family hauler that can haul big toys as well whenever required. To make it a tough competition for buyers, the company has completely redesigned its 2015 GMC Yukon and has maintained its traditional body on frame architecture of an SUV, which is loosely based on the basic structure of another offering of the same company GMC Sierra. The Yukon also has the styling cues of Sierra, which primarily include a newly designed grille, sculpted sides, full width bumper, modern looking fenders and amazing aerodynamic look which makes it even more desirable.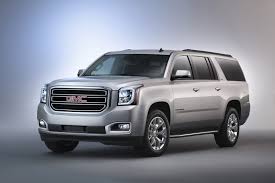 To make things more interesting under the hood GMC has endowed its much awaited Yukon with an all new 5.3 liter V8 engine, which is further blessed with direct injection and cylinder deactivation technology which makes it more powerful and highly efficient. The new V8 engine has the ability to produce 355 horsepower along with 383 pound feet of torque with its six speed automatic transmission, which additionally comes equipped with automatic grade braking function and tow/haul mode. The Denali model of Yukon is available for GMC lovers with a new 6.2 liter V8 engine capable of providing 420 horsepower and 460 lb-ft of torque. Most of the reviewers have rated 2015 GMC Yukon highly for its excellent towing capacity, which goes up to 8,500 pounds.
To shed some weight from this bulky SUV, this time 2015 GMC Yukon has trimmed down its weight around 250 pounds by decreasing the use of aluminum and high strength steel. If you give a close look, you will find that the weight loss of Yukon is more modest than the one done in Sierra because here liftgate panels and aluminum hood have played a major role in cutting some flab from the structure. On the contrary, inclusion of power liftgate, active cruise control, center airbag between passenger and driver, forward collision alert, blind spot warning, lane departure warning and additional adaptive suspension which is available in Denali models only have compensated for most of the weight loss Yukon has gone through.
Some of the major highlights of 2015 GMC Yukon are its upgraded upholstery material, which speaks volumes of class and luxury along with improved door panels and dash board, GMC's IntelliLink smartphone integration with its 8 inch touch panel make Yukon's interior a tough competitor for the like of Ford and Toyota who are known for their refined luxurious interiors. The introduction of third row seats which can be folded easily onto the floor is a complete value addition for GMC lovers. But this time, Yukon has compromised with its cargo space which has been reduced from 14 cubic feet to 94.7 cubes which will also be available only when you fold flat the second row seats.
The 2015 GMC Yukon is expected to hit the market by next summer with the speculated base price of $42,000 approx. Just wait and watch.