2015 Jeep Wrangler: A Compact SUV going Renegade
The all new 2015 Jeep Renegade is all set the scorch the already heating up SUV segment of compact cars apart from making a value addition to the portfolio of the brand matching every inch with its benchmarks like efficiency and excellent driving dynamics. Going the traditional way, the new 2015 Jeep Renegade also comes with its best in class 4X4 capability, which has always been a plus point with Jeep and most of the customers expect that to come in the package.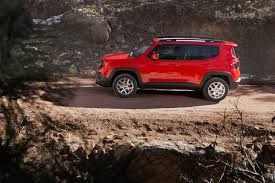 The design of all new Renegade has been refurbished keeping in mind its global acceptability and has been made palatable to make it match up to global standards. The cute and little buff bugger design of 2015 Jeep Renegade is appealing at first look and gives a sense of refreshment from usually mundane Jeep styling. However, Jeep has managed to retain its trademark seven slat grille, which can be recognized instantly. The traditional bulging fenders and square roofline are also perfect for the next generation Grand Wagoner. The addition of upturned rear side windowline and the attractive wrap around rear glass in 2015 Jeep Renegade adds a special character to its appearance. Jerry can crosshatches taillamps are actually very appealing and looks amazingly look with its Trailhawk trim. If seen minutely from inside you will find this to be a combination of Jeep Cherokee and Fiat 500L. Like any other hardcore Wrangler from the Jeep, Renegade also comes with My Sky, which are removable plastic panels placed aesthetically over front and rear seats.
Keeping itself abreast with the ongoing global demands for SUVs, the all new 2015 Renegade has been engineered in such a way that it can accept the functionality of for MultiAir gasoline engines and two MultiJet II diesel engines. The addition of start/stop technology and availability of option to choose between six speed manual or nine speed automatic transmission is sure to make value addition for improved fuel economy. Availability of Renegade in Diesel engine will surely be an icing on the cake to look out for.
Because it belongs to the Jeep SUV factory, 2015 Renegade should be excellently capable off road because it comes with advanced 4X4 systems that can make it move up to 100% on the torque engine no matter what kind of wheel grip it has on board. The active auto drive system has the capability to run on five modes namely sand, snow, auto, mode and rock. Disconnection rear axle is a value addition for improving its fuel economy on long trips. To improve its all terrain capability further, Jeep has introduced skid plates, all terrain tires, independent rear suspension, tow hooks and additional hill descent control.
But to be SUV lovers favorite futuristic car, 2015 Jeep Renegade has to do several things like it has to be a really good Jeep, with its accomplished and sophisticated 4X4 system that offer ample of ground clearance to the drivers. However, 2015 Jeep Renegade has a tough road to travel with competitors like Subaru XV Crosstrek, Nissan Juke and Honda Urban SUV as they have great chance of eating its space in the market.