2015 Porsche Macan SUV: Small Luxury SUV with Incredible Performance
Thriving high on the success of the midsized Cayenne Crossover SUV, Porsche is leaving no stone unturned to make a grand entry in futuristic SUV segment. Although, it has been only a while when company made its way in the world of compact crossovers to expand its family of luxury cars, but has become a reckoned name when it comes to buying performance oriented small sized crossovers. Come 2015 and Porsche is all set to take SUV market by tide with its 2015 Porsche Macan, which is small in size and also light on the pockets of its perspective customers. Iconic crest shaped hood emblem of Porsche is worthy of every penny spent on it because it comes packed with speed, agile handling and engaging driving character which a car lover would expect from any of the Porsche car like 911 and Cayenne.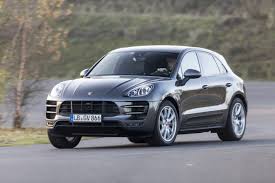 Some of the components of 2015 Porsche Macan might seem similar to 2014 Audi Q5, but it comes with its own engine, styling and suspension design, which makes it stand out from the crowd. Apart from that, Porsche ahs engineered the new Macan in such a way that it will drive more like a rear wheel drive car, which is usually not common among many premium brand crossovers. The standard all wheel drive dynamic of Macan is engineered in such a way that most of the engine's power can be directed to the rear wheels, whereas the front wheels will receive only redirected power which is usually needed to sustain traction.
The main source of power generation in 2015 Porsche Macan is one of the two available V6 engines. For Macan S, Porsche has offered turbocharged 3.0 liter V6 engine with 340 HP, whereas the Macan Turbo comes with turbocharged 3.6 liter V6 with 400 HP, which has been stipulated as by far the most powerful engine one can find in a small size crossover SUV. Quick shifting manual transmission comes as a standard feature with all trim levels just the way Porsche offers with its sports cars. For those who love sport SUVs, Porsche has also made a sport tuned suspension version of Macan which comes with optional features like power gripped summer rated tires for improved performance, adaptive suspension, rear differential torque vectoring, all these features are not very common among this class of SUVs and are also beneficial for its handling abilities. Optional air suspension is quite good as it increases Macans' ride height almost by 9.1 inches thus bolstering its capability especially on the dirt trails.
You can ensure that the hardware used for producing such class product is not of cheap quality, which has made considerable increase in the Porsche Macan's price making it an expensive luxury crossover.  Going by these lines the closest competitor for 2015 Porsche Macan is the Audi SQ5, which can give it tough competition in terms of price, performance and technology. For a lesser value competitor, 2014 BMW X3 is still arguably the best choice. Land Rover Range Rover Evoque is also an option to be considered as a cheap alternative. But if you are looking for performance and luxury in a small crossover, then there can be nothing better than 2015 Porsche Macan.