2016 Ford Fiesta ST Le Mans 50th Anniversary Edition Coming Soon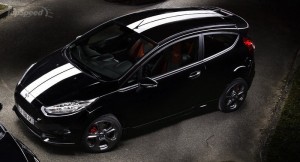 Ford is releasing special editions of their Focus ST, Focus RS and Mustang just in time for the Le Mans 50th anniversary. The new Ford Fiesta ST special edition, which will be covered in black livery with gray racing stripes that run from front to rear, is being built specifically for the French market.
There would only be 50 units of the Fiesta ST Le Mans 50th Anniversary Edition, reports said.
On the exterior, the Fiesta ST Le Mans is quite similar to the looks of the No. 2 GT40 from 1966. They have the same front and rear fascias, front and rear light units, radiator grille, and same wheels.
Inside, there's the same styling and features as the current Fiesta. There's the oversized six-speed shifter with leather accents on the center console, as well as MyFord's Touch infotainment system as standard.
The only difference in this special edition Fiesta is the plate on the center console that read "1966-2016" and "Limited Edition 50 units." There's also that classic Ford racing logo from the 1960s.
Fiesta also has that "sound symposer" located under the dashboard, making you think you're going faster than you actually are.
That being said, you'll be more disappointed with what you find under the hood. Despite it being a tribute to Le Mans, we found nothing special on the engine. It has the same 1.6-liter, EcoBoost that produces 197 horsepower and 202 pound-feet of torque.
With a six-speed manual transmission, the Fiesta can go 0-60 mph in 6.8 seconds. It has a top speed of 130 mph. It seems to be an underwhelming effort to pay tribute to the GT40. But since there are only 50 production units of the special edition Fiesta, Ford fans will certainly want to get their hands on this.
The Fiesta ST Le Mans edition will sell for $30,428, an increase of $2,684 from the current price of the regular Fiesta.