2016 Honda Civic Coupe Starts At $19,885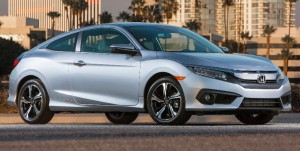 Honda traditionally gives its Coupe buyers a bit of a discount for halving the number of doors, but that stops now. The new 2016 Honda Civic Coupe will start at $19,885 for the base LX trim with a six-speed manual transmission according to CarAndDriver.
To be blunt, that's $410 higher than the 2016 Civic sedan LX manual. The price difference might not be that high but Honda has taken a different step here in pricing the coupe more than the sedan.
Well, to be fair to Honda, the two models aren't similar exactly. The coupe will sport the standard alloy wheels while the sedan LX will make do with steel wheels and wheel covers.
Both come with the same 2.0-liter four-cylinder engine, and if you want the CVT automatic option, it would add $800 to the LX coupe's and sedan's standard lines. This is another new step for Honda since other coupe trims offer only a CVT.
As you move up the range of the coupe and the sedan, the prices would vary since the trim-level structure isn't exactly similar to that of the sedan. The coupe's exclusive LX-P trim starts at $21,684 and includes passive entry, remote start, push button ignition, as well as a sunroof.
The coupe EX-T, on the other hand, has turbocharged engine, heated seats and other features for $23,135, or $100 more than the EX-T sedan. The EX-L coupe, which costs $24,260 or $275 less than the EX-L sedan, also includes leather seats.
If you opt for the coupe, you won't be getting as a standalone option the Honda Sensing active-safety features, which costs $1,000. Also, systems such as the adaptive cruise control, forward collision warning and lane-keep assist would only be available on the top-trim Civic coupe Touring, which is priced at $26,960.
The Civic coupe will be available starting next week on March 15. Honda will also launch an online configuration tool for the couple.