2016 Jaguar XF Receives Comprehensive Upgrade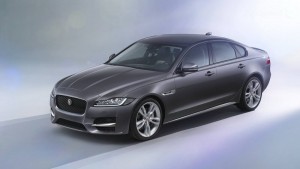 The XF was Jaguar's most-awarded car after it was introduced at the 2007 Frankfurt Motor Show. Eight years later, Jaguar decided that the sporty luxury sedan needs a change, introducing it at the 2015 New York Auto Show.
Its design is largely based on the previous model, though the XF received a much more comprehensive upgrade since it's now lighter and quicker according to a report.
Up front, there are narrower full-LED headlights, larger central air intake and more pronounced lower intakes. The taillights also received upgrades with longer and thinner units that emphasize the car's width.
The XF is considerably lighter, thanks to Jaguar's new architecture. This means the vehicles are now made of 75 percent aluminum, resulting to weight savings of about 132 pounds on the RWD model and 265 pounds on the AWD model. The new XF is 176 pounds lighter than its competitions.
Inside, the XF has larger legroom, knee room and headroom because of the wheelbase that now extends to 116.5 inches. At least for this segment, Jaguar bragged that it has the best rear seat and cabin space.
There are a number of infotainment gadgets—InControl Touch system that features a vehicle-optimized app suite, smartphone remote control, and the 8-inch touchscreen or the optional 10.2-inch touchscreen that comes with a quad-core processor, Ethernet connection, smooth graphics, and improved responsiveness.
It also comes with Dual View technology, meaning the passenger can watch DVD while the driver uses the display screen for navigation.
Other interior features include the laser heads-up display and the 825-watt digital surround sound stereo with no less than 17 speakers.
Drivetrains are now more varied than ever. Choices are: an Ingenium 2.0-liter four-cylinder oil burner, a twin-turbo, 3.0-liter V-6 diesel, two supercharged 3.0-liter V-6 gasoline engines, and the rumored V-8 engine.
The Ingenium offers two power levels—160 horsepower and 280 pound-feet of torque, or 177 horsepower and 317 pound-feet of torque—while the twin turbo diesel can go for 296 horsepower and 516 pound-feet of torque.
On the other hand, the two supercharged V-6 produces 340 horsepower and 332 pound-feet of torque.
The 2016 Jaguary XF will have a starting price of $51,900 for the 3.0L Supercharged V6, 340hp and $62,700 for the 3.0L Supercharged V6, 380hp.