2016 Lagonda Taraf Made for the Rich and the Famous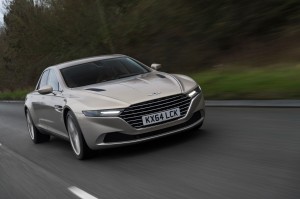 Aston Martin has hand-built this $1-million Lagonda Taraf sedan that targets eccentric multi-billionaires who are willing to shell out that much money on a car that is less than the Mercedes-Maybach S600.
If you can remember the Aston Martin DB9 coupe and the Rapide sedan, then you will be familiar with the aluminum-intensive VH architecture where the 2016 Lagonda Taraf is built from. Basically, it's the Rapide with a 7.9-inch wheelbase stretch and more formal roofline with carbon-fiber body panels.
The engine is a 540-hp version of the 6.0-liter V-12 that was used back in 1999 during the Ford-era of the Aston Martin. True to its roots, the V-12 is still built in the bespoke facility at Ford's Niehl engine plant in Cologne, Germany. The engine is connected through a torque tube to an eight-speed ZF automatic transmission mounted between the rear wheels.
As a result, the engine can peak at 6,650 rpm and has a peak torque of 465 lb/ft at 5,500 rpm. Since this is basically a DB9 and Rapide combined, the Taraf feels like an Aston Martin stretch limo. Drive wise, it doesn't have that ultra-luxury feel that should come with a $1-million price tag.
Instead, the steering feels too lively while the engine's too vocal. Also, the ride's too firm and there's too much road noise when driving. Coincidentally, the big Lagonda is an easier drive on the road than the Taraf. This is a surprise since the Lagonda tends to feel bulky and heavy.
The powertrain in the Taraf isn't as impressive as when it was used in the DB9, but it still has that elastic, almost turbine-like surge of power reminiscent of the V-12. When handled, you can fill that the Taraf has a good grip with minimal roll and long wheelbase damps fore-aft pitching.
The interior, on the other hand, is typical Aston Martin. It has near-illegible instruments, console-mounted push-button transmission controls, and the Rube Goldberg infotainment interface. There's also an HDD satnav system and 1,000-watt Bang & Olufsen BeoSound audio system.