2016 Lamborghini Huracán LP 610-4 Spyder is a Lifestyle Car for Smooth Driving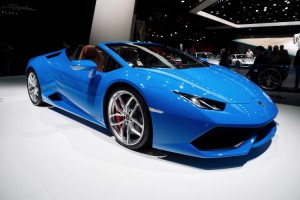 In the mid-2000s, the Lamborghini Gallardo Spyder was the talk of the town. It was a privilege enough to have driven it for four miles before, but we failed to get a good impression except that the V-10 was just too powerful.
We also distinctly remember that its engine was quite roaring like a brick was thrown inside a grinder, but we were impressed nonetheless of the raw nature of the sound and appeal.
Now, we get to test drive another Lamborghini creation—the Huracán LP 610-4 Spyder—at the Lamborghini press drive in Miami. This one's a 610-horsepower supercar, so the expectations are actually quite high. It didn't disappoint, but it didn't impress us either.
"Lifestyle" Car
If you're expecting a sports car that would roar through the streets of Miami or whatever city you're in, you would be disappointed. The Lamborghini Huracán LP 610-4 Spyder is a "lifestyle car," meaning it is best to be used while you're cruising along the Miami coast rather than rattling the railings off its roads.
The experience is founded on driving this in low speed and enjoying the feel of the engine, rather than pushing it to the extreme.
That doesn't mean the Huracán LP 610-4 Spyder cannot perform magnificently. You have to remember it still shares the same aluminum spaceframe with the Huracán coupe and the upcoming 2017 Audi R8. Its structure, which used carbon fiber for the firewall and central tunnel, feels light but strong.
It packs a 5.2-liter V-10 with 610 horsepower at 8,250 rpm and 413 pound-feet of torque at 6,500 rpm. It has a direct and port fuel injection that allows for fewer emissions during startup and lets the computer choose the type of injection that works best for the throttle demands.
This engine is paired with the seven-speed dual-clutch transmission while the power is sent to all four wheels because of its all-wheel drive. In terms of acceleration, it can accelerate to 62 mph in 3.4 seconds, vault from 0 to 124 mph in 10.2 seconds, and reach a top speed of 201 mph.
Overall, the Huracán LP 610-4 Spyder's "power" came from Lamborghini's passion for design, power, performance and aggression. In terms of specs and features, nothing much is outstandingly impressive with this machine—aside, of course, from the fact it is based on Lamborghini's history and legacy of coming up with the best for whether they created a sports car or a "lifestyle" car.