2016 Lexus GS F Is All About Power and Aggressive Styling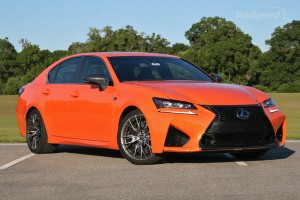 Lexus coming out with its list of F-Sport, F cars and the RC coupe are proof enough that it wants to distant itself from merely being dolled-up Toyotas. The introduction of the 2016 Lexus GS F brings more evidence that it wants a luxurious sedan with an aggressive appearance that is far beyond anything Lexus has created in the past.
According to Top Speed, the GS F is Lexus' answer to the BMW M5 and the Cadillac CTS-V—cars in the segment with loads of horsepower and elegant styling. The GS F is based on the standard Lexus GSsedan—the same on that came with a V-6 engine and hybrid option.
On the outside the Lexus GS F has a massive front grille, which it calls the Spindle Grille. With the F Sport or F-branded Lexus, you'll get an even larger grille than the standard one. The grille stretches from the hood to the pavement, with no breaks between the upper and lower sections. There are two smaller inlets below the headlights, providing air to the front Brembo brakes.
The car packs LED daytime running lights that give off a dramatic white light at night. To finish off this aggressive styling, the GS F rides on 19-inch wheels with seemingly endless number of spokes. There are different colors within the wheel that add detail, making it one of the most unique wheels in the industry.
It comes in Molten Pear color—one that screams for attention. It may not be something everyone can learn to love easily, but it will certainly pique your interest.
Inside, the GS F is an iteration on the standard GS cabin. There's the 12.3-inch Enform infotainment system and track pad, as well as the sport seats with contrast stitching that features heavy bolsters for extra support during hard corners. These seats also have limitless adjustments, making it the most comfortable of Lexus' cabin.
The gauge cluster takes after the IS F. The cluster houses a large digital tachometer, analog speedometer and a large info screen that displays coolant temperature, oil pressure, to gear position, G-forces, traction graphs and infotainment information.
Under the hood, you'll find a 5.0-liter V-8, all-aluminum engine that screams 7,300-rpm redline and produces 467 horsepower. This engine is paired with an 8-speed automatic transmission with driving modes—Eco and Sport+.
The GS F will have a starting price of $84,440 with an option for the Mark Levinson audio system for an additional $1,380.