2016 Nissan Titan XD Marks Major Update For The Pickup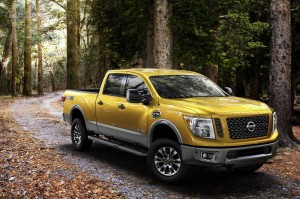 Nissan has finally updated its Titan pickup, which was first introduced back in 2004. The second generation full-size pickup truck will bridge the gap between the half-ton Titan and the heavy-duty contenders from Ford, GM and Ram.
Based on a report, the Nissan Titan XD has an all-new reinforced and strengthened body plus the highly coveted 5.0-liter Cummins V-8 turbodiesel that can produce 310 horsepower at 3,200 rpm and 555 pound-feet of torque at 1,600 rpm. It can lug around 12,640 pounds on the integrated gooseneck hitch, plus the weight of the truck and the passengers in Single Cab form.
The engine is paired with a heavy-duty six-speed Aisin automatic transmission with manual shift controls.
The Cummins diesel is 20 percent better in terms of fuel economy than a gasoline-powered V-8 with full loads. It has a rating of 15.8 mpg city, 20.8 mpg highway, and 17.7 mpg combined.
The Titan XD is also offering a revised, 5.6-liter Endurance V-8. It produces 390 horsepower at 5,800 rpm and 401 pound-feet of torque at 4,000 rpm. It comes with a new, seven-speed automatic transmission with Adaptive Shift Control and Downshift Rev Matching.
The standard Titan, on the other hand, will be offered in either a V-6 or V-8 gasoline engine. There are no details yet about the V-6 engine.
In terms of exterior, Nissan completely diverted from the 2016 Titan XD since only the corporate grille and the side mirrors have been brought to this new truck.
The 2017 Titan XD has a bolder and wider stance, thanks largely to its sculpted fenders at the front and rear. There's also the equally huge front fascia that sports a chrome mesh grille with the name "TITAN" embossed across the top.
Wheels are optional in 17, 18 and 20 inches, but all are wrapped in LT-series tires. To make it easier to step up into the bed, Nissan also incorporated the side running boards to extend past the cab.