2016 Rolls Royce Dawn Gets First Tuning Kit From Mansory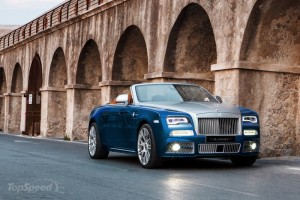 Mansory's tuning kit for the 2016 Rolls Royce Dawn, which made its debut during the 2015 Frankfurt Motor Show, is the first one to be developed for the months-old car.
Since Mansory is setting the bar for future tuning kits for the Dawn, it is important to check out what this one includes, which are plenty, by the way. Mansory's tuning kit for the 2016 Rolls Royce Dawn will have an aero kit, a customizable interior, and an enhanced performance based on a source.
Outside, the Dawn received a new front spoiler with larger air intakes, LED daytime running lights, and a smaller version of the front grille. It also has a new carbon fiber front lip, a lightweight hood, new side skirts, and a rear spoiler lip.
Completing the look is a new set of 22-inch lightweight alloy rims shod in Vredestein high-performance tires that measure 265/35/22 and 295/30/22, respectively.
Inside, Mansory offered the premium tuning kit it is most famous for. Customers can choose materials for the interior such as brushed aluminum, carbon fiber, burl wood, or highly polished lacquer surfaces.
The interior is further suited with extensive leather surfaces and handcrafted embroidering in the floor mats and head rests.
In terms of the drivetrain, the German tuning company was able to upgrade the Dawn's 6.6-liter V-12 engine from producing a standard 563 horsepower and 575 pound-feet of torque to an impressive 740 horsepower and 737 pound-feet of torque.
These changes allow the tuned Dawn to go 0-to-62mph in 4.5 seconds with a max speed of 177mph, which was 22mph faster than the standard model's 155-mph top speed.
The tuning kit may be on the subtle side compared to what Mansory has done before, but don't expect the kit to be cheap. The company has yet to release details on pricing but if previous Mansory tuning kits are indications, then expect this to be on the pricey range.