2016 Trans Am SE Bandit Edition Comes Back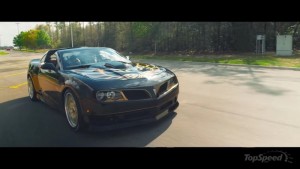 If you're a big lover of Smokey and the Bandit, then listen up. Trans Am Depot has built an iteration of one of Pontiac's most beloved line of cars—the Trans Am.
The Trans Am SE Bandit Edition, as it was aptly called, is the modern interpretation of the 1977 Trans Am SE featured in the movie "Smokey and the Bandit." Based on the source, there will only be 77 units built of this car, but they will all come packing the signature features of the original car. It will also be endorsed by Burt Reynolds himself.
This year, the American auto industry saw the discontinuation of such historic brands as the Chrysler's Plymouth, the GM's Oldsmobile, and Pontiac's GTO, Firebird and Trans Am models. Fortunately, Trans Am Depot was founded in 2011, and was given the rights to restore or build iterations of the Pontiac Trans Am and GTO from the fifth generation Camaro.
The Bandit Edition will have a V-shaped nose with the Pontiac badge, twin grille, and two horizontal vents in the bumper. But instead of square units, it would have round quad-headlamp configuration.
The similarities don't stop there. Both cars have the Trans Am lettering and honeycomb wheels with gold highlights, a big trunk lid spoiler, a wraparound bumper, wide taillights with three horizontal clusters with reverse lights on each side of the license plate recess. They also have a shaker hood and T-top roof, both of which are essential features of a Trans Am.
And to further prove this is the "same" car as the one in the film, the Bandit Edition will have gold accents on the nose, rear fascia, and waistline. Of course, it will feature the "screaming chicken" decal on the engine hood.
The Trans Am Bandit Edition didn't scrimp on the drivetrain, too. Under the 840 Extreme Performance Package, you will find a 7.4-liter LSX V-8 engine and a 2.9-liter twin-screw supercharger. It also includes a bespoke cold air intake, performance spark plugs, 80cc injectors, a 79mm pulley and belt, and performance 8mm plug wires and boots.
The Trans AM SE Bandit Edition will have a starting price of $115,000.