Monthly Archives:
April 2016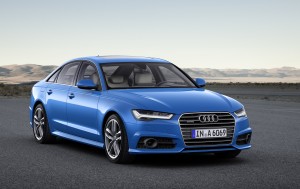 The Audi A6 and A7 received mid-year tweaks for 2016, wherein we saw a refreshed exterior styling and more technology inside. But for the 2017 model, Audi decided to update the A6 and A7 just a little bit more with a more stylish exterior and a high-tech interior.
Although the specifications for the United States version have yet to be released, what we can confirm is that both cars will have updated front and rear bumpers, an expanded color palette, and new wheel patterns.
But that's just for the exterior.
Inside, there are new LED ambient lighting packages, aluminum and wood dashboard accents, and advanced tech features. The updated Audi A6 and A7 have an improved Apple CarPlay, Android Auto smartphone integration, and a wireless charging pad.
The cars also come packed with an available rear-seat entertainment package wherein a pair of tablet PCs can make being rear passengers more comfortable and entertaining even.
There is no major change in terms of drivetrain, meaning it remains at 2.0-liter 4-cylinder base option for the A6 and 3.0-liter V-6 base option for the A7. On the other hand, the S6 and S7 will continue having the 4.0-liter V-8 engine. The same goes for the RS 7.
As we are all aware of, the Volkswagen Group has an ongoing diesel scandal. Because of this, it is more likely that we won't see a diesel option for the updated 2017 A6 and A7.
Deliveries for both cars will start in the second half of the year, so you don't have to wait too long. Pricing details have not been threshed out yet, but it is expected to remain unchanged from the 2016 A6 and A7.
This year, the A6 started at $46,200 while the A7 is at $68,300. These figures include the destination already.