Monthly Archives:
July 2016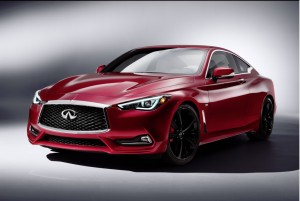 Finally, Infiniti has announced pricing for its two-door 2017 Q60 sport coupe. The starting price is $39,855, though this can rise to about $42,000, depending on the powertrains and trim levels.
According to a report, the two-door sport coupe will be offered with either a rear- or an all-wheel drive in three trim levels the moment it goes on sale this September. Next year, we'll get to see the 400-horsepower Red Sport 400 with the pricing to come later before the launch.
The lineup for the Infiniti Q60 includes the 2.0t, 2.0t Premium, and 3.0t Premium models when the cars are released to the market in September. The 2.0t will have a starting price of $39,855 while its AWD version will go on sale for $41,855. The 2.0t Premium has more equipment, which means an increase to $42,205. Its AWD version will sell for $44,205.
All the 2.0t models will come with the turbocharged 4-cylinder engine that can produce 208 horsepower. Aside from this engine, some other standard features for the 2.0t include the 19-inch alloy wheels, LED headlights, 8-way adjustable front seats, Bluetooth phone and streaming audio connectivity, and a rearview camera.
On the other hand, the Q60 2.0t Premium will enjoy a sunroof and a 13-speaker Bose audio system.
The 3.0t Premium will have a starting price of $45,205 while owning the 3.0t Premium AWD will cost you $47,205. Both of these 3.0t models have the VR-series twin-turbocharged 3.0-liter V-6 that can churn out 300 horsepower.
The Red Sport 400 model will enjoy the same features as the 3.0t models, but with a 400-horsepower version of the engine.
All these prices will include a $905 delivery charge, according to Infiniti.
Those who want to get their hands on the Q60 sports coupe can place their order through the Reservation Program. Early bird registrants will also get a chance to have a gift from Infiniti. They can choose from: a GoPro Hero4 Silver camera, Rosewood Hotel one-night accommodation, a Bose SoundTouch 20 Series III Wireless Music System, Tumi Tegra-Lite carry-on luggage, and a specially curated culinary experience.