Monthly Archives:
August 2016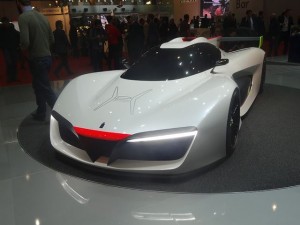 Italian design house Pininfarina announced that it will be making limited edition race cars. The units will be based on the H2 Speed Concept of the company.
It should be noted that the Pininfarina H2 Speed Concept was unveiled at the Geneva Auto Show early this year. Recently, the company CEO Silvio Pietro Angory revealed through an interview during the Concours d'Elegance held this month that they are planning to make 10 units of the hydrogen-fueled race car.
The upcoming race car will be powered by two electric motors paired with a braking energy recuperation system similar to its concept version. The power units are made in partnership with Franco-Swiss electric powertrain maker GreenGT.
The motors give the vehicle a total output of 503 hp. The power is distributed to the rear wheels. The acceleration of the futuristic auto from zero to 60 mph is at 3.4 seconds.
It is worth mentioning that the H2 Speed Concept does not possess A gearbox, differential or clutch. The car is managed by a torque vectoring software. The sound the vehicle produces is likened to a science fiction hissing sound.
Angory calls the product as "a racing car for gentleman drivers." The auto will be created in compliance with FIA regulations. The price tag of the vehicle is very expensive though as it carries a value of $2.5 million.
The working prototype race car based on the Pininfarina H2 Speed Concept is expected to arrive in early 2017. Orders for the eco-friendly auto are targeted to reach customers 12 to 14 months after its launching.
The report further claims that the H2 Speed Concept is developed with the Pininfarina 1969 Sigma Formula One concept car in mind. The older unit offer elements featuring the next-generation safety technology of its period. This time though, the upcoming race car concentrates on advanced powertrain technology.