Monthly Archives:
October 2016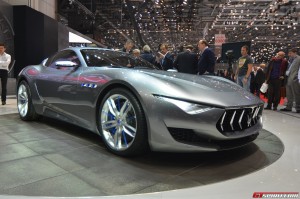 It was recently announced that the launch of the Maserati Alfieri will be pushed back to 2020. This is an unwelcome development for those who want to see the Italian brand's new flagship, but it's good news for those craving for a worthy successor of the Maserati GranTurismo because the company is reportedly delaying the Alfieri to create a new generation GranTurismo and GranCabrio.
But for now, here are four expectations we have about the Maserati Alfieri:
There is a New Lightweight Platform
Little is known about the Alfieri that will come out in 2020, but engineer Davide Danesin earlier announced that Maserati is developing a new platform that will allow the vehicle to be made out of lightweight material like aluminum. Both the Alfieri and the next-generation GranTurismo is expected to ride on a platform with a "more sporty architecture" than the Ghibli, Levante and Quattroporte.
It is Going to Come Close to the Ghibli
The platform that's going to be used with the Alfieri won't be all new. It will share bits and pieces, "some common basis," with the Ghibli sedan. This move will likely reduce costs, as well as development time, reports suggest.
It Will Have a Rear-wheel Drive Layout
Originally, an all-wheel drive was being considered for the Alfieri, but Danesin clarified that this seems to be improbable. The next best thing is to create the Alfieri with an exclusive rear-wheel drive layout.
The Engine Will Likely Be a V6
Engine options for the Maserati Alfieri remains to be unconfirmed, although we are expecting it to be powered by a V6 engine that can produce 410, 450, and 520 horsepower, depending on the variant.
The Alfieri concept was first introduced at the 2014 Geneva Auto Show, where it wowed the audience. Its production version was supposed to be released as early as 2016, but this was pushed back to 2018 according to a report. Now, it seems fans have to wait until the end of the decade to see the concept come to life.