Monthly Archives:
November 2016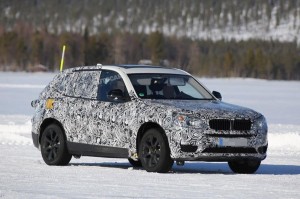 If you're a fan of the current BMW X3, you'll be happy to know that the same snappy performance, elegant interior, and reasonable pricing are packaged in an all-new next-generation 2018 BMW X3.
Spotted testing once again, the new X3 is likely to arrive in showrooms starting next year as a 2018 model. Aside from what we enjoy with the current model, the German automaker added other elements to make this the perfect crossover SUV. What does anyone want in an SUV? Power, aerodynamics and cargo space. All of these you can find in this next-gen X3.
1. More Interior Space
Crossover SUVs have suffered tremendously for its failure to offer adequate interior and cargo space like it's bigger brother, the SUV. It's understandable why since the crossover wasn't made to rival the SUV. It was just made to be bigger than the sedan, but significantly smaller than the SUV. The focus was on ground clearance than interior space. But thanks to a more efficient engineering and the use of lightweight materials, the 2018 X3 is equipped with a larger interior.
That is thanks largely to the adoption of the CLAR modular platform that was first seen in the 2016 7-Series. The SUV version will be debuting in the X3, and will likely appear in the new X5 and X7 as well.
2. Diesel and Plug-in Hybrid Options Available
For those of you waiting for a battery-powered electric X3, this isn't the year for that, unfortunately. Under the hood of this new X3, you'll find almost the same engine as that of the latest 3-Series. This means that the crossover is offering BMW's new B58 modular 3.0-liter inline-6 and inline-4 units, including diesel and plug-in hybrid options. The battery-powered electric X3 will arrive towards the end of the decade.
3. Performance Variants are Coming
There will be an X3 M40i and X3 M, the latter was apparently spied in prototype form. Its engine will be coming from the M3/M4 line which produces 425 horsepower. These performance variants will have an aggressive body form that is also wider than the current X3.