Daily Archives:
December 4, 2016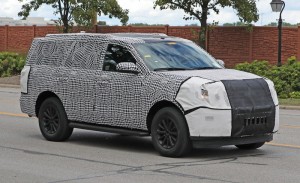 Spy photos showed that the 2018 Ford Expedition is currently in the development stage. Traditionally, the Expedition is based on the F-150, which Ford worked tirelessly to improve. However, in recent model years, that distinction has grown distant in terms of suspension and exterior and interior styling.
On the front exterior, the spy shots revealed that the 2018 model year for the Expedition has a new look that will mirror the design styling of the current F-150 pickup. It will have that muscular chiseled look that is reminiscent of the first-ever F-150, including the numbered keypad on the driver's side, of course.
Here are four items you should check about the 2018 Expedition based on a report from TopSpeed:
1. It Will Carry The 3.5-Liter EcoBoost
The new Expedition is bound to have the same 3.5-liter EcoBoost engine we see in the 2017 F-150 truck. Because this is the EcoBoost's second generation, it can create bigger power with 375 horsepower and 470 pound-feet of torque, which is essentially coming close to a V-8 engine. In fact, that is more than General Motor's 6.2-liter V-8 that can be found under the hood of the Cadillac Escalade and some versions of the GMC Yukon and Yukon XL.
2. It Has A 10-Speed Automatic Transmission
The engine is going to be paired with a 10-speed automatic transmission, which was developed together with GM and is the first-ever volume-production 10-speed automatic in the world. Compared to the previous six-speed automatic transmission, this new system will deliver better performance and acceleration. The Expedition will be offered in both RWD and 4WD.
3. It Has A V-6 For A Standard Engine
According to reports, there will also be a 2.7-liter EcoBoost V-6 for the 2018 Expedition… and it will come as a standard engine! It packs 325 horsepower and 375 pound-feet of torque. It may fall behind the 3.5-liter engine, but it would be able to handle the all-aluminum Expedition with no problem.
4. It Might Have A Turbodiesel Option
There is no confirmation yet, but it looks like Ford is working to develop a small turbodiesel option for the F-150, and we might just see this under the Expedition's hood, too. Certainly, that would explain why the spy shots have a massive exhaust pipe.
Spy Shots Gallery