Daily Archives:
December 6, 2016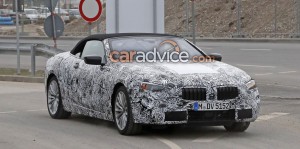 Let's get this out of the way: the 2018 BMW 6 Series Convertible has a whopping price tag of $85,100, which comes very far from the likes of the Mercedes E-Class Cabriolet and the Audi S5 Cabriolet. Because of that, we're pitting this against the SL Roadster, which is very much its competitor, price-wise in particular.
Based on the spy shots, the 6 Series is sporting a new fascia, grille, and headlights. The front end will have slightly wider kidney grilles, sleeker and slimmer headlights, and some other minor restyling. There could also be some changes in the overall bodyline.
There are two different trims available for the US market. The 640i and the 640i xDrive will get the 3.0-liter, twin-turbo, inline-6 while the 650i and the 650i xDrive will get the 4.4-liter, twin-turbo V-8. The 3.0-liter should produce around 350 horsepower and 340 pound-feet of torque while the 4.4-liter should cough up at least 475 horsepower and 500 pound-feet of torque.
Each engine will be paired with a "sport" automatic transmission while xDrive models get an all-wheel drive. Non-xDrive models get a rear-wheel drive.
Mercedes SL Roadster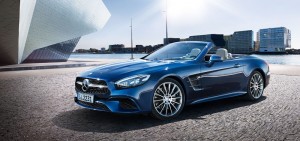 If you're planning to spend $90,000 on a car and don't really need a backseat, then you can check out the Mercedes SL Roadster. It's an evil little car in terms of sportiness, power, and speed. Currently, it's available in four trim levels—the entry-level SL450 at $86,950 can deliver 362 horsepower and 369 pound-feet of torque thanks to the 3.0-liter V-6.
On the other end is the AMG SL63 and SL65, which are priced at $151,250 and $219,850, respectively. The SL63 makes use of a 5.5-liter V-8 machine that comes up with 577 horsepower and 664 pound-feet of torque. The SL65 has a 6.0-liter engine that produces 621 horsepower and 738 pound-feet of torque.
The 2017 Mercedes SL Roadster has many improvements on the exterior and interior, but none is better than what it changed outside. This model now has a power-folding hardtop that has a speed of 40kph or 25mph. It has a redesigned front and rear fascia, with the former coming with large air inlets under the new LED headlights, chrome or carbon fiber accents. You can choose from either a 10-spoke or five-spoke designs for the 19-inch wheels. Aside from the existing color palettes, the 2017 model welcomed two more colors—Brilliant Blue and Selenite Grey Magno.