Daily Archives:
December 9, 2016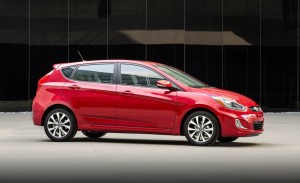 Korean automaker Hyundai may be focusing on its Genesis brand for the upper echelon of the automobile market, but that doesn't mean it has completely forgotten about its budget sedans, namely the Accent.
Recently, the automaker revealed that its subcompact Hyundai Accent sedan is now fully loaded for just the low price of $17,285. Called the 2017 Hyundai Accent Value Edition, this subcompact sedan is the perfect characterization of the brand's budget roots.
Here are its key features based on a report:
1. It's a little more than Accent's base model.
The 2017 Hyundai Accent Value Edition is only $705 more than the base mode, the 2017 Hyundai Accent SE sedan. That one comes with a six-speed automatic transmission while the Value Edition doesn't offer a manual. This small amount adds a number of features such as 16-inch aluminum wheels, cruise control, Bluetooth connectivity, steering wheel audio controls, rear disc brakes, and an armrest storage box. For an $18,000 car, these features are perfectly acceptable. It still doesn't come with a backup camera, but that's also not available on any Accent sedan, regardless of trim level.
2. It's not the only budget option on the Accent lineup.
If you don't need the extra features that the Value Edition is offering, you can opt for the $15,580 Accent SE with a six-speed manual transmission. If you want the hatchback version, which is honestly way more aesthetically pleasing than the sedan, that's an additional $250. The Accent hatchback also offers a Sport trim level, which has dropped its manual transmission option and now is only available with a six-speed automatic for $18,330.
3. It hints of a redesigned model for next year.
Traditionally, Hyundai offers their Value Edition deals when a variant is nearing the end of its life. Although it's quite exciting to know that it's easier to afford an Accent with this new trim level, this isn't the news we're waiting about the Accent. This hints, however, of a redesigned model for next year or for 2018.