Daily Archives:
December 14, 2016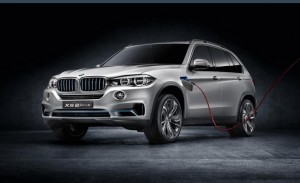 The 2017 BMW X5 Plug-In Hybrid is a killer on the road, if truth be told. The kidney grilles, sleek motifs, and elegant interior all scream BMW—a car that has always been worthy to take on any kind of highway. And the X5 is exactly like that.
According to a test, like all X models, the X5 was built to conquer the highway while highlighting the features that make it undoubtedly a sports car.
Powertrain
The X5 features an electric motor and internal combustion. The internal combustion features a turbocharged 2.0-liter four-cylinder that can produce 240 horsepower. Once paired with an electric motor, it can add another 111 horses to the already powerful 240. These are all mated with an 8-speed Steptronic automatic gearbox.
As with any hybrid vehicle, the two units just don't add up and bring 352 horsepower. Instead, they average at about 308 horsepower, which is still a welcome development compared to other models in the same segment. It can accelerate from 0 to 60 mph in just 6.5 seconds. It has a top speed of 130 mph.
Earth-Friendly
If you'll use the full electric, you can go 16 miles on a full charge. But once combined with the four-cylinder engine, you can reach the 56 MPG EPA estimated by BMW. Without the battery (if it is discharged), the motor engine can reach a decent 24 MPG with the four-cylinder engine.
The lightweight material used on the 2017 BMW X5 Plug-In Hybrid is able to save power and fuel, too. The X5 now has a lighter and stronger independent suspension that promised a quiet ride for the Pirelli 20-inch alloy wheels.
Price
The 2017 BMW X5 Plug-In Hybrid has a base price of $62,100. The high-end model will cost $72,420 because of the additional features inside the cabin. The price is justifiable enough because the car will also come packed with a host of safety features such as air bag development, four-wheel ABS brakes, stability and traction controls, and other BMW items.