Daily Archives:
December 20, 2016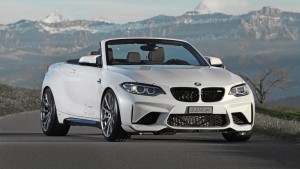 Dähler Design and Technik is offering to BMW fans what is not being offered by the M2. It's an open-top version of the BMW M2 coupe!
According to source, the German company decided against manufacturing an open-top convertible for the BMW M2 because the engineers thought there was no way it can deliver a good enough droptop. Luckily, aftermarket specialist Dahler thought to make it their personal mission to deliver an open-top convertible for the M2.
1. It is Every Inch A BMW
The Dahler project is obviously made by a professional, and someone who knows how to deal with a BMW. It's still every inch a BMW because it doesn't even feel like someone else other than the Bavarian company handled the car. Dahler didn't say how they converted the vehicle, though we are led to believe that they based it on the 2 Series Convertible rather than the M2 coupe.
2. Its Stage 1 Delivers 402 Horsepower
Dahler is beating out the M2 coupe, which is pretty powerful with its capacity to produce 365 horsepower (272 kilowatts) and 343 pound-feet of torque (465 Newton-meters). It can even be boosted to 369 pound-feet of torque (500 Nm).
But Dahler's M2 Convertible has two stages: Stage 1 will bring the turbocharged 3.0-liter inline-6 to produce 402 horsepower (300 kW) and 426 lb-ft of torque (580 Nm). This will enable the M2 Convertible to reach 62 mph (100 kph) in just four seconds. The maximum speed is 180 mph (290 km/h).
3. Its Stage 2 Produces 419 Horsepower
If you are not contented with what Stage 1 has to offer, you can go up another notch with Dahler's Stage 2 program for the M2 Convertible. Stage 2 can deliver up to 419 horsepower (313 kW) and 450 lb-ft of torque (610 Nm). This has a top speed of 186 mph (300 km/h).
Photos of the BMW M2 Convertible
Check out the gallery below for more images of the BMW M2 made into a convertible by Dahler: