Daily Archives:
December 21, 2016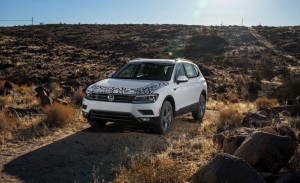 Volkswagen has worked hard to bridge the gap between the current Tiguan and the Touareg. What came out of their effort is this crossover: a second-generation Volkswagen Tiguan that has an increased overall length, has more cargo space, and has a seven-seater option.
1. It Uses The MQB Platform
The modular components for VW Group's MQB platform are being utilized extensively by the German company. Since 2012, the group sold 28 models and a total of 4.6 million vehicles that used this chassis. What all MQB-based vehicles have in common are the transverse engine and transmission orientation. From there, the cars are free to do anything: front- or all-wheel drive, three-, four-, or six-cylinder, and variations in wheelbases, tracks and exterior dimension.
2. It Has The "German Engineering" Driving Experience
This means that you'll get to experience what it feels like to handle a German-made car—from the leather-wrapped steering wheel to the well-bolstered driver's seat to the 4MOTION all-wheel-drive system that perfects rounds on snowy roads, the dry-paved roads, and even off-road conditions. When driving on a highway, you can choose from Eco, Normal, Sport, and Custom operating modes.
3. It Can Only Produce 180 Horsepower
It may be outfitted with VW's new EA888 turbocharged 2.0-liter inline-four, but it will only be able to produce 180 horsepower, 16 horsies less than the current Tiguan. VW said this was done for the greater good—increased torque and better fuel efficiency. The exact figures, however, have not been released.
4. It Has A Cabin That Rivals Most Luxury Sedans
Inside the new Tiguan, you'll find some of the most luxurious elements of a crossover—an 8-inch centrally-located touchscreen with infotainment volume and tuning, and a second screen display between the speedometer and tachometer. The first screen shows a compass, steering angle, pitch and roll angles, and engine oil temperature. The second display has the navigation, trip, and mileage information.
5. It Can Accommodate Up To 7 People
To be clear, the crossover is unlike the Honda Pilot, Ford Flex, and Buick Enclave when it comes to cabin length and width. It just sits a little above the Mitsubishi Outlander, though seven people with normal stature can fit into the new Tiguan.