2017 Acura NSX GT3 Race Car Shows Up At NY Auto Show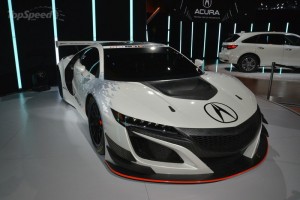 It was safe to assume we've seen the last of the Acura NSX because it has just went on sale last month with the launch of its online configuration. But then, it just showed up at the New York Auto Show with a GT3 variant of the Acura NSX. There was an announcement too that Acura plans to turn this model into a GIA GT3 race car this fall based on a report.
In terms of overall design, there is almost no difference between the NSX and the NSX GT3, except for the latter's new hood that sports a larger vent for cooling down the engine. The fascias, headlights and front grille are also the same. What's new is the larger front spoiler that extends several inches away from the fascia, giving the NSX GT3 a more truck-like appearance.
On the sides, the GT3 is more toned down than the NSX. The mirror arm sits almost vertical and the mirror housing is smaller. The aggressive body line we've seen on the NSX is no more. Instead, it has been toned down to fit the smoother side skirts that transition into the rear wheel arches and the rear quarter panels. This was probably done to assist in air distribution.
To make it lightweight, the GT3 was wrapped with a lightweight, aluminum-intensive space frame. The main color is white, though there are black accents around the grille and the fascia's flics, hood vent and rear air intakes.
There is not much information yet about the drivetrain, though we have a thinking that the GT3 will be powered by a 3.5-liter, 75-degree, twin turbo DOHC V-6 that has the same engine specs as the road-going NSX. The engine block, cylinder heads, valvetrain, crankshaft and pistons will be similar as well.
The current road-going NSX can produce 573 horsepower and 476 pound-feet of torque. The GT3 will most likely upgrade these figures.
We can base the GT3's future pricing to the Porsche 911 GT3 R, which has a current price tag of $479,216.